IT pro or manager? Go East, young man. But don't expect servants
Plenty of scope, but cushy ex-pat days are done
---
Analysis Ambitious Britishers have long looked abroad to make their fortunes, and the rise of China and its satellites is drawing a new generation ready to swap family ties and predictable working hours for a slice of the new Wild East.
But while the booming Asian economy is generating a raft of new job opportunities for senior IT professionals in both large multinationals and domestic firms looking to internationalise, recruiters warn that the days of the fat ex-pat relocation package are numbered.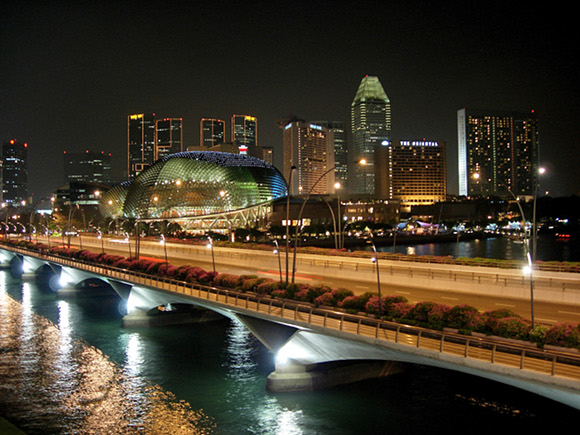 Shiny, shiny: Esplanade drive in Singapore. Pic credit: Clarence Loi
The Register spoke to a range of experts about the IT jobs market in China, Hong Kong and Singapore – currently the most attractive ones for ex-pats – and the omens for 2012 are generally pretty good, with recruiters reacting positively to signs of greater economic stability in Europe and the US.
Financial services, e-commerce and hi-tech manufacturing industries, among others, are all on the look-out for international IT professionals with niche skills in areas such as cloud computing, as well as the perennial favourites of business-focused and communications skills and SAP/ERP expertise.
Recruitment firm Robert Half says that CTOs and CIOs in Hong Kong are expected to be the most active in their hiring plans with 28 per cent of those it surveyed planning to increase their permanent IT headcount in the first half of 2012. Singapore follows, with 22 per cent looking to increase IT headcount, followed by 14 per cent in Japan.
IT risk and compliance, IT audit, .Net and Java developers and systems architects with good business skills are also in high demand, it said. Michael Page International, meanwhile, said that it expects to see 400-500 new IT jobs in the first quarter across all salary ranges in Singapore.
China's booming economy is also fuelling demand. Not only is it growing at such a pace that it can't provide enough skilled IT professionals domestically to fill all of the roles on offer but home-grown companies are increasingly looking to internationalise their operations, providing ex-pats in the People's Republic and Hong Kong with new opportunities, according to Andy Bentote, Michael Page International's MD for northern and eastern China.
However with such an embarrassment of riches when it comes to science and technology graduates coming out of university in the region, the sweet spot for ex-pat pros is generally going to be in IT manager and above roles.
"It's not that China isn't creating quality candidates; it's that it's not generating enough to keep up with the pace of growth of the country," Bentote told The Reg.
"Multinationals are trying to localise as much as possible. But while that is true below manager level, they will have quite a lot of foreigners in these senior positions. They have the skills to do it and also there are quite a lot who have been brought in to bring someone local through."
He explained that Michael Page is increasingly being asked by domestic Chinese companies to source ex-pats to help them internationalise, a trend he said is likely to develop "more and more".
Certainly big name tech firms such as Baidu, Huawei and ZTE are leading the charge when it comes to spreading their wings and expanding out of China. But as more follow, by the same rationale, so will the job opportunities for ex-pats – at least until they have trained up the locals.
"There's a huge appetite for learning here so if you can demonstrate you can teach, and give that to people then you've got an even better chance," said Bentote.
According to Michael Page's recently released Salary & Employment Forecast (PDF) for 2012, senior IT managerial roles are increasingly appearing in financial services and commercial companies headquartering in the economic hub of Shanghai, while Shenzhen is a growing centre for telecoms, hardware and software companies.
However, Bentote also had a word or two of caution for ex-pat IT pros with itchy feet: there won't be a job in China for you unless you have either Mandarin skills or some experience of working in the country, and ideally both.