EMC confesses burning Lustre lust
Offers all comers plenty of five-nine action
---
ISC 2012 no-show EMC launched a high-performance computing version of its generic mid-range VNX array today.
The VNX HPC Appliance series is a pre-configured hardware and software appliance and marks EMC's first real thrust into the HPC market. This followed a claim in November last year when it announced a performance density record with Lustre, the popular supercomputer file system, delivering 2GB/sec per rack U from a VNX7500.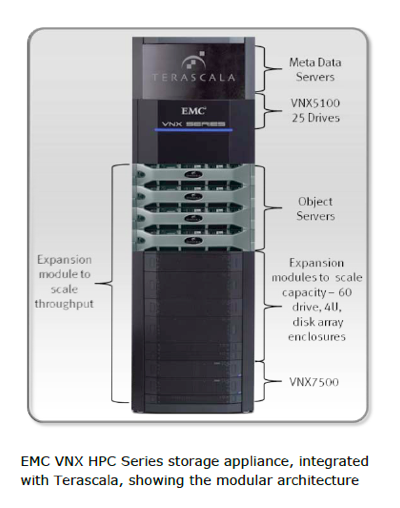 EMC VNX HPC Appliance Series
The VNX HPC appliance includes a VNX5100 for metadata storage, a VNX7500 for object storage, object and metadata servers, the Terascala LustreStack software and InfiniBand connectivity. We're told the VNX5100 has 25 disk drives. A base VNX HPC module delivers 8GB/sec read and 5.3GB/sec write performance and, by adding modules, can scale to 18, 27 and 36GB/sec. These are numbers as measured by the XDD benchmark.
The VNX7500 used for object storage has 4U x 60 x 3TB drive enclosures, and can scale from 720TB to tens of PBs.
EMC says that Terascala's Lustre provides "proven enterprise-class reliability and simplified end-to-end management". It makes Lustre suitable for commercial organisations of all sizes in industries such as financial services, life sciences, manufacturing and oil and gas who would otherwise "not have the time, budget or required training to deploy and manage it" because of its deployment complexity. It says the VNX HPC product has five-nines availability and worldwide support.
EMC did not release any pricing information nor any specific availability data. ®