TV makers are desperate for the Next Big Thing. It's not hard to see why: even LCD TV sales are now falling. Year-on-year LCD shipments fell for the first time ever during Q1, market watcher NPD DisplaySearch said today.
It was a small dip - down just three per cent - but symptomatic of an industry in decline. Other technologies have risen and fallen, but LCD shipments have always continued to grow. Until now.
LCD dominates the TV business, accounting for 84.2 per cent of shipments in Q1 2012. CRT - still selling after all these years - was next, with a share of 9.9 per cent, almost double plasma's 5.8 per cent share.
Plasma is hanging on because of demand for low-cost 2D models among cost-conscious consumers.
Not so OLED. Samsung and LG may have shown off snazzy 55in models during January's Consumer Electronics Show (CES), but neither they nor other vendors actually shipped any - or at least not in sufficient volumes to give the technology anything more than a zero per cent share after rounding.
Q1 2012 Flat-panel TV Makers Market Shares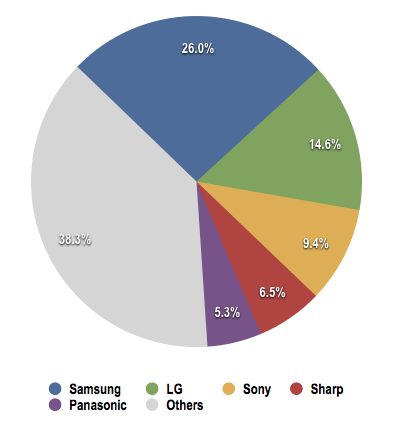 Data source: DisplaySearch
The TV market as a whole was down eight per cent year on year to 51m units, DisplaySearch said. Just over 43m of them were LCDs.
Among flat-panel telly makers, Samsung was the only one to increase its share of the market, experiencing year-on-year growth of nine per cent. Sony and Panasonic saw the biggest declines, their shipments falling 21 per cent and 23 per cent, respectively.
Roll on Ultra HD, then... ®