This article is more than 1 year old
Microsoft's uncloaks Phone 8 developer preview
One Windows kernel to rule them all
Microsoft held its developer preview of the Windows Phone 8 operating system on Wednesday, and revealed that it is shifting the platform to share core kernel features with Windows 8 for better integration.
At the rollout event in San Francisco, corporate vice president of the Windows Phone program Joe Belfiore said that Microsoft's Phone OS had been built around the Windows CE core, but that this wasn't good enough anymore, so the new mobile platform had been rewritten around Windows 8.
The sharing of features will mean much tighter integration between Redmond's Windows and Phone users, and Belfiore promised that developers would be able to simply port their existing Windows applications to run on smartphones with a minimum of recoding. Device drivers can also be shared across both platforms.
Phone 8 will also run IE10, and cloud app providers will find it simple to design for both PCs and Phones, he said, with the new version of the mobile browser doubling existing HTML5 performance and boosting JavaScript speeds by four times. Cloud developers will find this a boon for writing PC and mobile front ends, Belfiore asserted.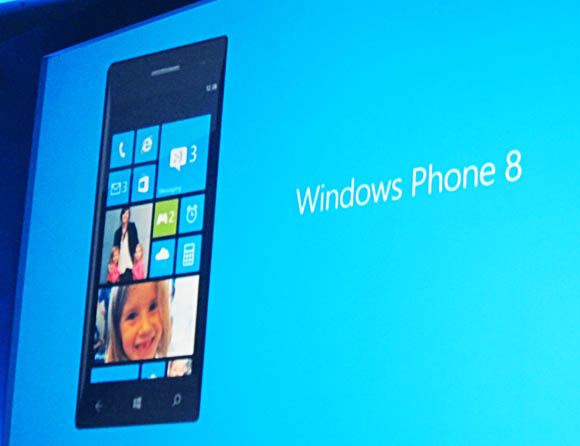 Meet Microsoft's next attempt at cracking the smartphone market
Belfiore acknowledged that IT administrators had been less than impressed with the integration features of Phone 7.5 and its predecessors, and he said that Microsoft has taken this criticism to heart. He promised Phone 8 would fill in the gaps, including adding encryption and device management features and the ability to add third-party applications that run across both platforms.
Phone 8 will also support native code in C and C++, along with hardware acceleration from Direct3D and support for DirectX. This is going to be a boon for games developers looking to port their products to handsets, he said, and Belfiore promised "some freaking great games" at launch.
Redmond is also adding map functions thanks for a deal with Nokia to add its NAVTEQ data to the operating system. The maps will work in online and offline modes, contain local information on "many" countries around the world, and location applications can run in the background while other applications are accessed.
Microsoft has also been working on its speech recognition and is making the technology available to developers. It has been working with Audible to beef up its technology – and the event's presenters couldn't resist digs at the poor performance of Apple's Siri application.
The new OS has been designed to run on multicore processors, and Microsoft is increasing the number of resolution options for manufacturers, adding support for WXGA (1280 by 768, 15:9) and 720p (1280 by 720, 16:9) screens to allow hardware builders more options, rather than the single WVGA screens.
The OS also supports microSD storage and near-field communications (NFC) hardware, along with secure SIM technology from operators. Orange in France will be the first to release phones that use the NFC and secure SIM setup at launch, with the features coming next year for US customers via the AT&T and T-Mobile Isis project.
To accomplish this, Microsoft has updated its Wallet function in Phone 8, which the company is opening up to third-party developers. Belfiore said that Google's approach to wallet technology was flawed, that Microsoft would be announcing partnerships soon, and demoed a Chase mobile-banking application.
All these upgrades come at a price, however. Phone 7 users won't be able to upgrade to Windows 8, so it's upgrade time for existing customers and bad news for big corporate buyers who've already invested in Phone 7. To mollify users, Microsoft is updating Phone 7.5 to Phone 7.8, adding the Phone 8 start screen to the handset and new features such as enhanced image processing.
At launch, Microsoft will have new hardware from Nokia, Samsung, HTC, and Huawei, with new handsets being supported for at least 18 months. All updates will be sent out over the air rather than forcing users to hunt for a USB cable, and registered developers will get a preview of any updates before their general release. ®