Sun dying on its arse behind the Oracle walls
Lipsticked schweinhund looking poorly
---
Analysis Playing with the annual revenue numbers Oracle has just released indicates Sun HW-related revenues fell by $1.4 billion from 2011 to 2012.
We'd better explain our reasoning. Oracle hardware products and support revenues were $6.944 billion in its fiscal 2011. They were $6.302 billion in fiscal 2012, a fall of $642 million. Some Oracle hardware did very well though.
Oracle president Mark Hurd said:
"Our engineered systems business is now operating at well over a billion dollar revenue run rate. For the year, the Exadata, Exalogic, Exalytics, SPARC SuperCluster and the Oracle Big Data Appliance product group grew over 100 per cent year-over-year."
Let's subtract the engineered systems business from the hardware products and support number to arrive at what is likely the residual Sun hardware business number, plus the Pillar storage array business, whatever that is worth these days. We'll assume that engineered systems annual revenue run rate is $1.25 billion ("well over a billion dollar … run rate") and was $500 million in fy2011 (grew over 100 per cent year-on-year.")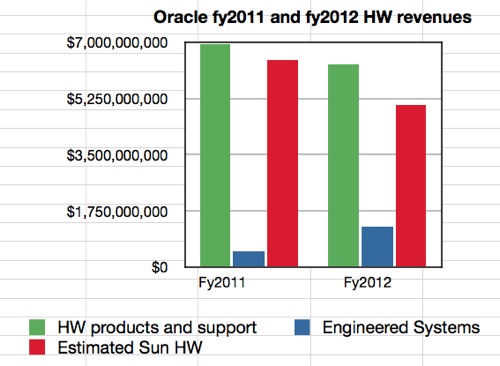 Feed these numbers into a spreadsheet and the residual Sun business was worth $6.444 billion in fy2011 and $5.052 billion in fy2012; a fall of 21.6 per cent. It puts the comments of the fired Keith Block about Sun being a dog into perspective. The chart shows the colourful horror story.
Extrapolating the current trends Oracle's engineered systems revenue will overtake the rump Sun hardware business revenue in 2014.
If, and it's a big "if", our numbers are anywhere near accurate the residual Sun hardware business is destined for the scrapheap and Pillar's Axiom arrays have nowhere left to go. The writing is on the wall. Oracle's hardware future is engineered systems and that is that. You don't need to be Mark Hurd to see it. ®
Note; comments to this forum topic please.