ASA: Rooney tweet was advert, not written expression of his thoughts
Obviously nobody thought it could be, argues Nike
---
Nike UK has been slapped for slipping a marketing tweet into Wayne Rooney's Twitter account without clearly marking it as an advert. In the ruling today, The Advertising Standards Agency banned Nike from doing it again.
Followers of Wayne Rooney might have mistaken his tweet about Nike in January as a genuine expression of the footballer's thoughts, the ASA suggested. In fact, the tweet was composed by "a member of the Nike marketing team".
My resolution - to start the year as a champion, and finish it as a champion...#makeitcount gonike.me/makeitcount.
Though Rooney did come up with ideas for the January 2012 tweet, Nike offered in its defence.
Nike also got in trouble for doing the same thing with England and Arsenal midfielder Jack Wilshere. In January Wilshere tweeted:
In 2012, I will come back for my club - and be ready for my country. #makeitcount .gonike.me/Makeitcount.
In their defence, Nike said that Rooney and Wilshere were well known for being sponsored by Nike, and that the url which led to a Nike website suggested that the endorsement was an advertisement.
In the context of the personal tweets from the stars, Nike argued, the Nike tweets were clearly different. Rooney more often tweets things like this: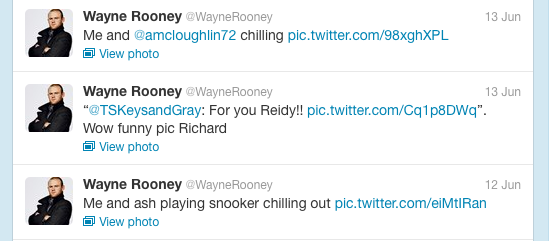 Nike said that their tweet stood out as different when compared with Rooney's normal tone on Twitter
But the ASA said that their rules state that ads need to be obviously marked as ads and has forbidden the ads from appearing again.
It is believed to be the first time that a UK company has been slapped for a Twitter campaign. The ASA started regulating online areas including Facebook and Twitter in March 2011. ®