iOS App of the Week It's often been said that there's big difference between the public's perception of crime – getting worse all the time, the country's going to the dogs, blah-Daily-Mail-blah – and the actual crime figures that have shown a decrease in recent years.
Of course, there's plenty of statistical information about UK crime rates available on the web, including a handy GoogleDoc spreadsheet from The Grauniad that summarises the most recent figures.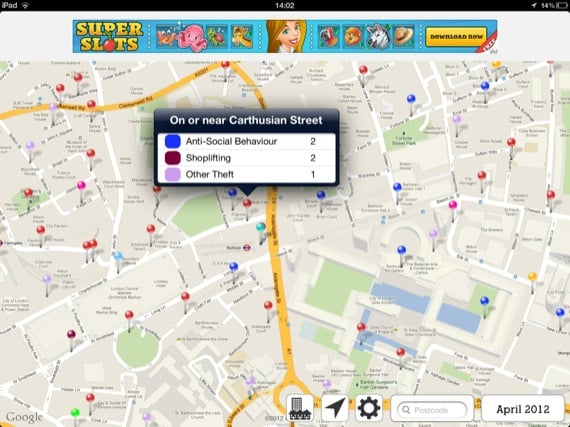 Perps in the parish
However, the Crime Map app helps you to make sense of all the statistics by providing a quick overview of crime in your manor – that is, if you live in England or Wales.
By default, the app homes in on your current location and displays crimes that have been reported nearby. The display breaks crimes down into different categories, so I was relieved to see that while my local big-name supermarket is a hotbed of petty pilfering, there's not a lot of violent crime in my area. It was also interesting to note that my local park – Victoria Park in east London – was surprisingly free of active felons.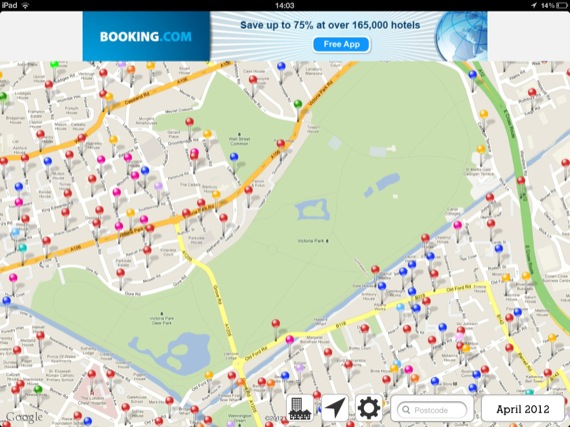 Green is clean
You can also do a search by entering a postcode, and specifying which categories of malfeasance you want to look out for. This could be handy if you're house-hunting in a particular neck of the woods and want to look up the figures for burglary.
The basic version of the app is free but ad-supported, but on the iPhone there's also an option to pay 69p in order to ditch the ads and gain an augmented-reality mode that overlays crime info onto the iPhone's camera view.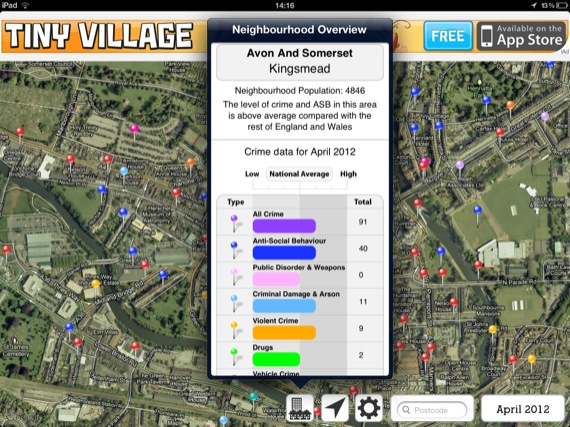 But who watches the watchmen?
I'm always inclined to dismiss AR apps as mere gimmickry, but there's a curious voyeuristic thrill to be had when you sit at a bus stop and get a view of the all crimes that have been committed within 150 metres of that spot.
The app could do more with all that data, though. It only shows the most recent set of crime figures, and doesn't allow you to go back and compare past figures for your area.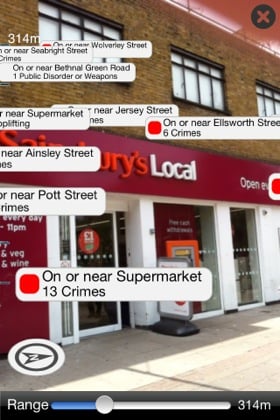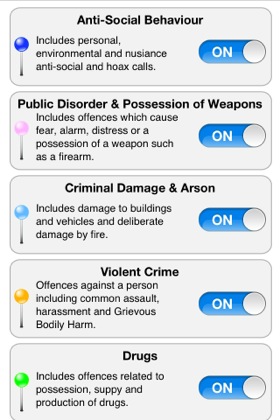 Pay up and get augmented reality powered Crime-O-Vision™
It'd also be interesting to see some sort of league table that lists the areas that have the highest or lowest rates for specific types of crime. Even so, Crime Map is worth a quick download in order to satisfy your curiosity and confirm or disprove your worst fears about felonious urban youth in your local area. ®
More iOS App of the Week Winners

Over 40
Magnifier
HMRC Tax Calc
Vyclone
Run, Zombies!
SoundBrush

Crime Map
A simple app that will make plenty of people curious about their local crime figures.
Price:
Free (ad supported) £0.69 (no ads) RRP
Similar topics