Twitter back online (mostly) after unexplained outage
Thar blows the Fail Whale
---
Updated Twitter users have been outraged after services failed for a few hours on Thursday, but there are still reports of the Fail Whale surfacing on occasion.
The problems started around 9am Pacific Time (5pm UT) and, after service resumption, it failed again around 90 minutes later. As we post this piece just before 2pm Pacific Time, the problems are still unresolved, according to the Twitter Status page. "The issue is on-going and engineers are working to resolve it," it says.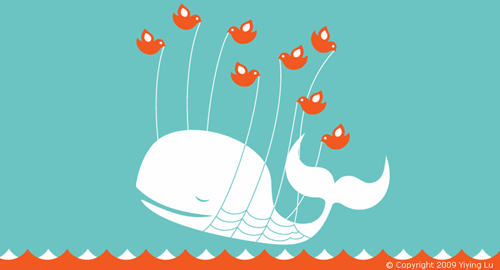 Thar she blows
According to the BBC, Twitter has reported that the problems stemmed from "a cascaded bug in one of our infrastructure components," and the outage appears to have hit all services, desktop and mobile, and there are sporadic reports of further problems.
It's Twitter's biggest outage of the year so far, and occurred at a particularly busy time in the day for the company, with European users complaining about the commute from the office while San Franciscans were sending out pictures of the latest breakfast creation from Tartine. ®
Update
Twitter has confirmed that the problems were caused by a bug and says the knock-on effects of the outage have been considerable.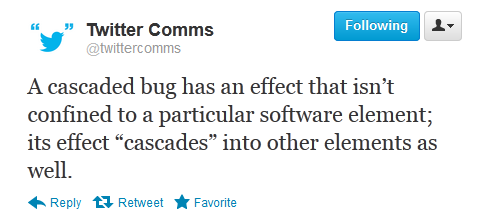 In other words this may take some time to resolve
However, a hacking group called UG Nazi has claimed responsibility for the outage. Hannah Sweet, who claims to represent the group, told CBS that the interruption in service was due to a DDoS attack by the group and was still ongoing.
"They keep moving servers and we keep attacking it," she said. The motivation behind the attack is Twitter's support for the controversial CISPA legislation currently going through Congress, she explained.