Server upstart Cisco Systems has updated its B-Series blade servers and C-Series rack servers in the "California" Unified Computing System line, bringing itself on par with the latest Xeon E5 machines available from rivals HP, Dell, and IBM.
Like the past two generations of UCS machines, Cisco's now fleshed-out third generation of servers are all based on Intel Xeon processors. In the four machines that quietly debuted on Thursday, the compute engines are the Xeon E5-2400s for two-socket machines and E5-4600s for four-socket machines, which came out in mid-May.
Cisco launched UCS rack and blade machines based on Xeon E5-2600 processors back in March, when they first came out. The E5-2600s are the mainstream two-socket server CPUs, which sport more memory and I/IO bandwidth than the E5-2400s. For certain workloads, however, the E5-2400s – which cost less – are the better choice.
So you need both. The E5-4600s are preferable to the fatter and more expensive Xeon E7s in most cases, and because of the on-chip support for up to 1.5TB of main memory with the E5-4600s, the newer chips obviate the need for Cisco's homegrown memory extender technology, a key differentiating feature in the original UCS machines from March 2009.
That said, it would be fun to see Cisco put 3TB of memory on a four-socket box and see how it screams on in-memory database processing.
The way Cisco positions the machines is thus: E5-2400s are for scale-out and Web 2.0 workloads, E5-2600s are for heftier enterprise-class workloads, and E5-4600s are for mission-critical apps. You can get any in a blade form factor that sits inside the UCS chassis or a rack version with more I/O and storage capacity, all linked into the integrated server-storage 10 Gigabit Ethernet backbone and using the UCS Manager management software.
Cisco has not launched a single-socket node based on Intel's "Ivy Bridge" Xeon E3-1200 v2 processors. But if enough customers ask for it, Cisco could make a quarter-width node, or maybe just put two nodes in an existing half-width B-Series blade enclosure.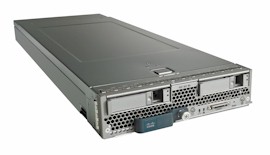 The UCS B22 M3 blade server
Thus far, Cisco has shown no temptation whatsoever to adopt Opteron processors from AMD in its machines. It's reasonable to speculate that AMD would have to offer some truly dramatic advantages for Cisco – which is focused solely on high-end, data-center sales – to even think about adding another processor to the mix.
If Opterons are a remote chance, ARM processors or any other kind of exotic processor are at galactic distances until Linux and Windows operating systems and KVM and ESXi hypervisors are supported on ARM in some fashion. It could happen, of course, and – like many of you – I'm certainly rooting for that to happen because I believe competition drives the industry.
From the outside, you can't easily tell one half-width B-Series blade from the other. The B22 M3 supports all the variants of the E5-2400, with four, six, or eight cores, and has a dozen DDR3 memory slots for a maximum capacity of 192GB using 16GB memory sticks.
It's not clear why Cisco isn't supporting 32GB sticks, but they are available in the market and there is no reason why the Cisco boards, which are based on the same "Patsburg" C600 series as every other mobo out there in the world, can't use 32GB sticks. One good guess is that it makes a distinction between the machines that use the E5-2400 and those that use the E5-2600, which can have up to 384GB across two sockets now and which will have 768GB coming with support for 32GB sticks soon.
The B22 M3 blade has two hot-plug disk bays, and you can slide in 100GB solid state drives or SAS or SATA drives that come in 146GB, 300GB, or 600GB capacities; they are 2.5-inch drives, as is the case in a lot of servers these days.
The B22 M3 blade sports an LSI SAS 2002 RAID controller that supports RAID 0 striping for performance and RAID 1 mirroring for high availability. The machine also has two 16GB SD flash cards, which will be used after a forthcoming software update for some presumably interesting purpose – which could be on-server, replicated hypervisor storage.
The B22 M3 blade also has two mezzanine adapter slots: one PCI-Express 3.0 mezzanine slot and one micro LAN-on-motherboard (microLOM) slot for lashing the blade to the UCS Manager/switch at the top of the chassis using a virtual interface card (VIC) with two 10GE links. (Cisco has a number of these cards, and it is not clear which one the B22 M3 supports.)
The C22 M3 server is the rack analog of the B22 M3 machine.

The UCS C22 M3 rack server
This rack machine comes in a 1U metal pizza box, and if you squint a little, it will kind of remind you of the clean and shiny design of the Sun Fire Opteron servers from Sun Microsystems – which is probably not a coincidence, considering how many ex-Sunners ended up in the server unit at Cisco over the past several years.
Cisco is not supporting every E6-2400 in this box, just the E5-2470, E5-2450, E5-2440, E5-2420, E5-2403, or E5-2430L parts.
The C22 M3 has a dozen memory slots, just like the blade it most closely resembles, and can support 1.33GHz or 1.6GHz memory sticks; Cisco does not say in its spec sheets if this box has 16GB or 32GB sticks as its maximum.
The machine has eight 2.5-inch drive bays and supports SAS drives spinning at 10K and 15K RPM as well as fatter SATA drives that spin at only 7.2K RPM. SAS drives are available in 146GB, 300GB, 600GB, and 900GB capacities, while the SATAs come in 500GB and 1TB capacities. There are a variety of LSI MegaRAID cards available with various RAID levels of data protection.
The C22 M3 has two PCI-Express 3.0 peripheral slots. The existing UCS P81E VIC – a dual-port 10GE interface card that supports Fibre Channel over Ethernet (FCoE) and that can be virtualized into 18 logical network interfaces for the server and a total of 128 interfaces to storage as well as the network – can be plugged into the machine and will work fine even though it is a PCI-Express 2.0 card.
The UCS VIC 1225 card, which has two 10GE ports back to the UCS Manager/switch that are similarly virtualized, but for a total of 256 virtual interfaces, will also slide into the machine. This one slips into an x16 slot, offering better bandwidth utilization than an x8 slot would.
Cisco has not yet added a PCI-Express 3.0 variant of these NICs because until it adds 40GE networking to the UCS switch, it doesn't need the extra bandwidth that PCI-Express delivers. That will come soon enough, El Reg suspects. The UCS chassis was designed from the get-go to support 40GE switching, so that's not the issue.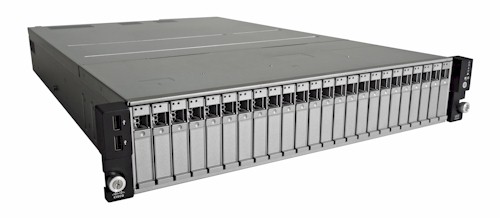 The UCS C24 M3 rack server
The C24 M3 rack server is a 2U variant of the E5-2400 machine, although in this case, the box has lots of local disk storage. The C24 M3 has room for 24 SAS or SATA drives mounted vertically across the front, and has five PCI-Express 3.0 peripheral slots. It supports the same CPU SKUs as the C22 M3 blade.
Four sockets, two times the fun
It is not clear why the B420 M3 server gets to keep a zero in its product name when none of the new Xeon E5 blades and racks do, but it does.
The B420 M3 blade is a double-wide that spans the full width of the UCS chassis and therefore gives Cisco twice as much room in which to create a four-socket server node that offers roughly twice the oomph and eight times the maximum main memory in which applications can frolic.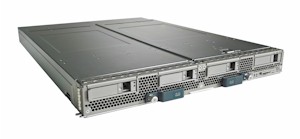 The B420 M3 double-wide blade server
Cisco supports variants of the Xeon E5-4600s with four, six, or eight cores, but has not outlined the specific SKUs from the possible options.
The B420 M3 has four processor sockets and 48 memory slots, twice the density per socket as the two-socket E5-2400 rack and blade machines and offering up to 1.5TB of memory across those four cores if you use 32GB sticks. (You won't use 32GB sticks because they are too expensive, so stop dreaming.)
The B420 M3 has four front-accessible, hot-plug drive slots in the 2.5-inch form factor, and all of the drive options and types supported in the C22 M3 rack machine are available in the B240 M3 blade.
The B240 M3 has an LSI SAS 2208R controller integrated on its motherboard and offers RAID 0, 1, 5, and 10 data protection across those drives. The machine also sports those two 16GB SD flash slots that are going to be used for something in the future.
This blade has three mezzanine slots, one of which is dedicated to the UCS VIC 1240 interface, which has 40Gb/sec of total bandwidth running back and forth between itself and the UCS switch at the top of the chassis (across four ports) and that has 256 virtual interfaces for network and storage access over Ethernet and FCoE, respectively. The other two mezzanine ports can take two VIC 1280 adapters (which have 8 ports or a total of 80Gb/sec of bandwidth for their 256 virtual interfaces) or third-party network adapters (if you can imagine anyone doing that).
The B420 M3 is pitched as a machine suitable as the back-end for virtual desktop infrastructure as well as for running infrastructure clouds, databases, or ERP software.
The B22 M3 blade server is shipping now and a base price of $2,450. The other three machines will ship later this summer, and pricing will be available at that time.
It would have been interesting to see Cisco put one more machine into the field, what El Reg will call a C420 M3 for now. This would be a rack analog to the B420 M3 sporting four sockets, maybe in a 2U chassis, and offering 1.5TB of memory and 24 drives across the front like the C24 M3. Such a machine would complete the set.
The C460 M2 rack server, which is based on the Xeon E7 processors and has four processors and 64 memory slots (for up to 2TB of capacity) in its 4U of rack space is not exactly a dense machine by 2012 standards. Cisco needs a 2U rack with the Xeon E5-4600s, similar to Dell's PowerEdge R820, IBM's System x 3750, and the HP DL580 Gen8 – if HP ever gets around to launching that one. ®