A Chinese student forced to intern at Foxconn has complained that his two months on the gadget assembly line was like "military training" and unrelated to his degree, according to a local Chinese news site.
A group of students at Xi'an Technological University have complained about having to do work with with the iPhone manufacturers in order to pass their degrees, reports the Huashang News webite, via MicGadget. It's particularly resented by arts and social sciences students, according to the Chinese news site, which reported that many felt the "work experience" was irrelevant to their studies.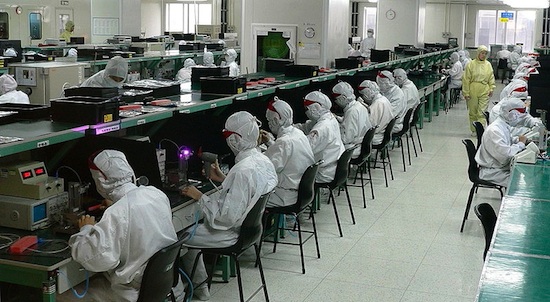 School's out for summer!
Sophomore student Zhang told Huashang News that he had wanted to help his father on the farm during the summer break, but could not as he, along with the other 2,000 students who attend Xi'an uni, had to spend two months in the summer working for Foxconn.
Foxconn's 20,000 interns
Students perform tasks like trimming the edges off a mobile phone, said MicGadget. And if they don't do it – at least in the case of Xi'an Technological University, which awards students a vital six credits for the "coursework" – they don't get a degree.
The practice is not isolated to Xi'an, however: human rights group SACOM criticised the "compulsory internships" at Foxconn in their letter to Apple CEO Tim Cook of March this year, and there have been several other reports of forced Foxconn internships several years ago, but this seems like one of the first times that students have mobilised to complain about it. SACOM says that student interns make up just 1 to 2 per cent of Foxconn's workforce: a number it approximated at 10,000 to 20,000 people.
The "interns" are paid – but only just – wages are 1,550 yuan (£150) a month, a figure that shrinks after accommodation (110 yuan a month) and meals (11 yuan a day/330 a month) are subtracted. Train fares, paying for bedding and telephone bills and other expenses mean that workers sometimes barely make a profit.
1,550 yuan seems to be about the average wage for a Foxconn worker in the area, though in the southern town of Shenzhen, the average Foxconn wage is over 2,000 yuan.
Uni: Internship helps students work out what to do with their lives
The vice president of Xi'an University argued that the internships helped students decide what they really wanted to do with their lives. He is quoted in MicGadget:
The internship is the practical experience, [which] is part of their curriculum. The goal of arranging such internship for the students is to allow them to understand what they really want to be, since many students usually feel pressured by their parents into choosing a particular degree course or institution.
According to MicGadget, the university is not receiving any money for sending the students to Foxconn.
One student in favour of the internships said it was a way to practise "social [skills], communication and co-operation". ®