Canon PowerShot G1 X compact camera
CSCs – who needs 'em?
---
Moving dials
At the front the G1 X gets a deeper, texturised handgrip that feels comfortable and safe, and loses the built-in flash window, now replaced by a pop-up flash unit located on the top plate, where the exposure compensation used to be. Having made space for the flash, the top plate loses the ISO dial around the mode dial, which is swapped for the exposure compensation dial.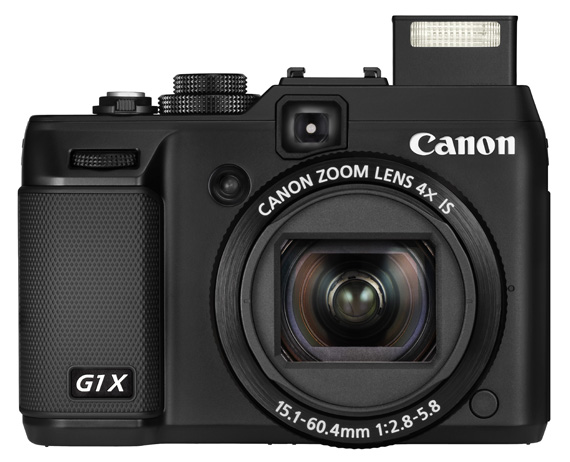 The new pop-up flash means a rejig of controls on the top plate
The ISO control is relocated to the back – as the up button of the four-way controller – necessitating a three step process to change settings: a far cry from the G12's instantaneous ISO dial. The rear of the two models remains very similar, with the G1 X acquiring a direct movie-recording button instead of the asterix aperture/shutter speed button of the G12.
The vary-angle LCD screen – tiltable 180 degrees forward and 90 backwards – and the viewfinder also see an improvement compared to the G12. The LCD screen is 0.2 inches larger and has twice the definition of its elder sibling while the viewfinder slightly expands in size and coverage – around 80% - despite remaining nothing more than an emergency tool for composition, not least because part of the image is physically blocked by the lens.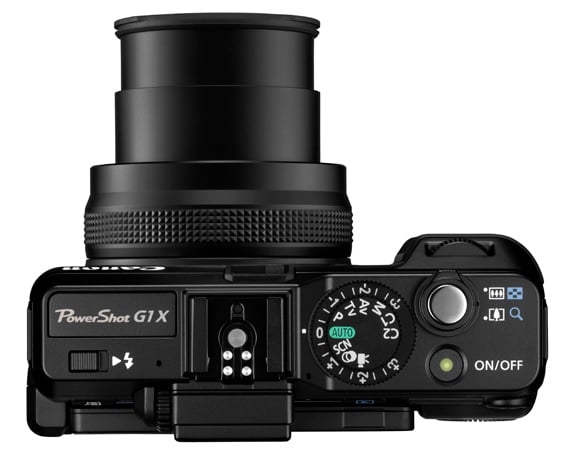 Interchangeable lenses? Meh
The menu layout and operation of the camera is virtually the same of other Powershots with the Func/Set button calling up a quick and well organised set of on-screen menus to change the parameters of the most frequently used functions. The G1 X features an unusually high level of customisation for a compact. Not only can the front and rear dial swap their aperture/shutter speed function but in semi-manual and automatic modes they can be assigned to a number of user-defined functions.
Other custom options include a Shortcut button that can be assigned to virtually any setting, a MyMenu option and two custom modes on the mode dial.
The new sensor size, pixel density and resolution of the G1 X deliver by far the best image quality seen in a compact. Colours are consistent and natural and there is plenty of detail resolution. Another useful by-product of the larger sensor size is the ability to produce shallower depth of field results, with great benefits for portrait and still life.
The G1 X's metering and White Balance systems greatly impressed me, as I saw the camera handling even the trickiest of lighting with commendable accuracy. ISO and low-light performance are first class too. Images are virtually noise-free all the way to ISO 3200 with some well-controlled deterioration thereafter – a better claim than some DSLRs.