Canon PowerShot G1 X compact camera
CSCs – who needs 'em?
---
Not so close
The overall image quality is definitely helped by the build and optical quality of the 28-112mm zoom lens mounted on the G1 X. The lens suffers only negligible barrel distortion at 28mm and controls chromatic aberrations extremely well. The only complaint I have about the lens is its minimum close focusing distance. The zoom lens has a minimum focusing distance of 35cm in normal mode and a not-so-close 20cm in Macro mode.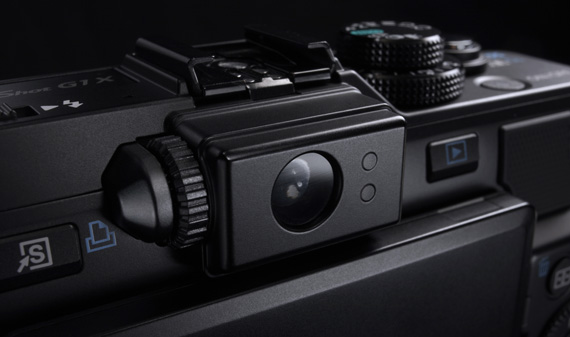 Ahh viewfinders, doncha just love 'em?
Other noteworthy features that lend the G1 X a competitive edge are the 3-stop Neutral Density filter that allows you to use slower shutter speeds in equivalent lighting conditions, an HDR scene mode and Canon's Intelligent Image Stabilisation system that analyses camera movements and distance from the subject to select one of seven different anti-shake options to best suit the scene.
The G1 X also offers a wide range of colour settings and creative filters to make the shooting experience more playful. Unfortunately though Canon has not taken a leaf from its competitors and upgraded its outdated Stitch-Assist panorama mode to the smooth fully automated panorama mode now becoming standard on this class of cameras.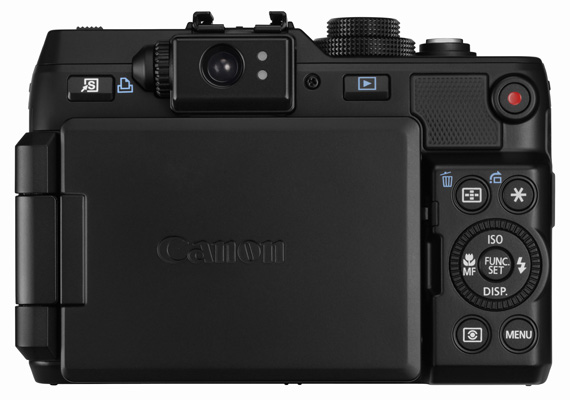 Full HD video capture, but still no external mic input
If image quality is the G1 X's strongest selling point speed performance certainly isn't. A bit sluggish in almost every operation, the G1 X can't quite compete with most CSCs when it comes to continuous shooting and autofocus speed. At a rate of 1.6 fps the G1 X is certainly below its competitors standards but the main problem is the slow and erratic response of its contrast detection autofocus system. Even in optimal lighting conditions the G1 X takes its own sweet time before the AF system locks onto its target, and in low light the delay can be quite unnerving.
The improved HD movie mode delivers some beautifully sharp and smooth footage and lets you use the full focal length of the lens if not all the camera's manual controls. Sound is good too although it tends to record lens movement quite clearly and there is sadly no option for an external mic despite the hotshoe provided on the top plate.
Battery life was slightly disappointing with the 250 shots per charge not quite stretching to a full day of action.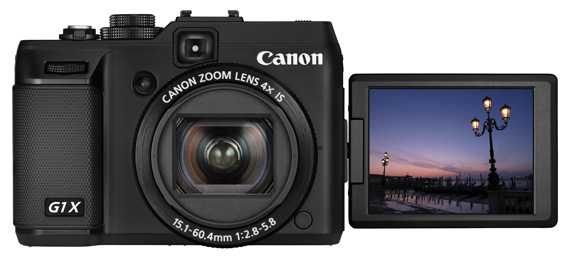 CSC stop gap or a strategic offering? Either way, the G1 X is a class act
Admittedly, I'm still waiting for Canon to show its hand at the CSC game but should it decide to pass, I start thinking the company might actually be on a wise path. As a DSLR owner, and having tried the G1 X, I have to say that I would be much more tempted to invest into the new PowerShot G-series than into any of the CSCs out there. With the G1 X, Canon has shown that an advanced compact can deliver similar or better image quality than Micro Four Thirds with a zoom range flexible enough to cover most scenes.
Verdict
Once the novelty of an interchangeable lens compact has worn off wouldn't most enthusiast photographers be tempted to simply choose between a G1 X-style compact or a DSLR, rather than a Compact System Camera? I certainly feel the proposition is a valid one. As has been the case for years with the G-series, the G1 X would make an excellent back-up compact for DSLR owners as well as an exciting imaging tool for enthusiast photographers. I just wish that Canon would fix some of the performance issues that make this camera less than perfect. ®
More Camera Reviews…

Nikon
Coolpix P7100
Sony
NEX-7
Fujifilm
Finepix X10
Panasonic
DMC-GX1
Canon
PowerShot S100

Canon PowerShot G1 X compact camera
Canon's flagship G-series PowerShot gets a larger 14Mp sensor and full HD video capture.