Acer big cheese: Microsoft Surface sales will be 'superficial'
Redmond bite will inflict only minor wound on us
---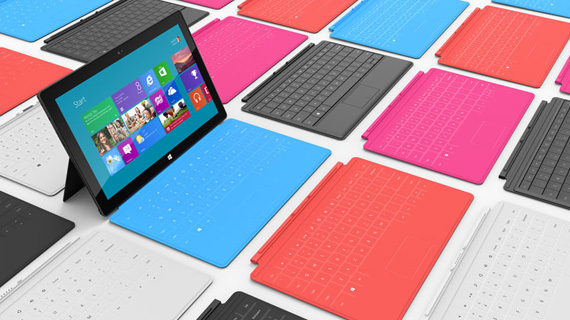 Microsoft Surface: No competitive threat, says Acer
Acer EMEA boss Oliver Ahrens has brushed aside Microsoft's foray into the tablet market, dismissing the Surface as a competitive threat.
Last week the covers were lifted off the Surface, a 10.6 inch devices, based on ARM and Intel platforms.
"Microsoft still has a big agenda for improving the user touch experience on Windows 8 and we hope this approach does not defocus them, but from a competitive point of view we are not concerned, not a bit," said Ahrens.
He took the helm of the PC maker's EMEA operation last year amid a significant changing of the guard as the firm tried to get a hold on its inventory issues and return to profits.
Ahrens told The Channel that later this year Acer is launching a portfolio of hardware that will run on Win 8 already – tablets, ultrabooks and clamshell notebooks – and reckons Microsoft should stick to its knitting too.
Microsoft in 'complex situation'
Distributors have yet to be informed if they will get access to the Surface but several assume they will - at least that is what they told us.
Asked if Microsoft's stab at fondleslabs was due to a lack of confidence in the ability of PC makers to get the most out of the next-gen OS, Ahrens replied "could be", but he found this line of thinking "astonishing", given Acer's line-up.
"If Microsoft doubts that [OEM] partners can do that job that is fine. I think they are in quite a complex situation because they are suppliers and partners for all the PC vendors, and [now] they have their own hardware," he added.
He said Acer has placed its chips behind Windows 8 with "products for every client [type]" despite not yet knowing which SKUs will be the biggest sellers.
And the reason for the relaxed attitude to Microsoft's Surface – at least publicly – is that the PC vendor does not anticipate many being sold due to the price tag, which Microsoft has not yet confirmed but which Acer has estimated.
"Like our [Iconia] W700 [Ivy Bridge Windows 8 tablet] it will have a price of €800, so from a pricing point of view it's a premium segment," said Ahrens.
Office out of the box
Last week, DigiTimes claimed that Taiwanese contract manufacturer Pegatron is building the Surface – with the Ivy Bridge model reported to be above $799 and the ARM-powered Windows RT above $599.
The build quality of the Surface is "impressive", said Tim Coulling, analyst at Canalys, but he suspects that Microsoft had paid for this development, which would be reflected in a high buy price.
"RT will compete with the iPad and Android devices and will be priced higher which may make it struggle... Microsoft could be on dangerous ground because the market has told us that if prices are high there has to be a round of cuts before it sells out".
Both the HP TouchPad and RIM's BlackBerry PlayBook were subject to massive price reductions before they started to shift, and it seems only Apple is able to command a premium.
Coulling said the extent of the danger was dependent on the volumes that Microsoft orders Pegatron to build.
He said Microsoft was putting its weight behind the device, offering "Office out of the box", but questioned if there was any consumer demand for that group of softwares on a tablet. He pointed out:
"It [Office] has never been on an iPad; there are plenty of alternatives out there that are cheaper."
According to Canalys market share numbers for 2011, Apple accounts for more than 71 per cent of tablet sales, Samsung had an 8 per cent share and Acer had a 4.4 per cent slice.
Microsoft declined to comment. ®