Accessory maker Belkin is taking on Slingbox. Its @TV, which is set to go on sale next month, pulls in content from set-top boxes and other media players and streams it out over the internet to a dedicated playback app.
The compact box provides an Ethernet port for streaming, but it also incorporates Wi-Fi to allow mobile devices to tap in directly. Belkin said wireless-connected clients will be able to record feeds for offline viewing.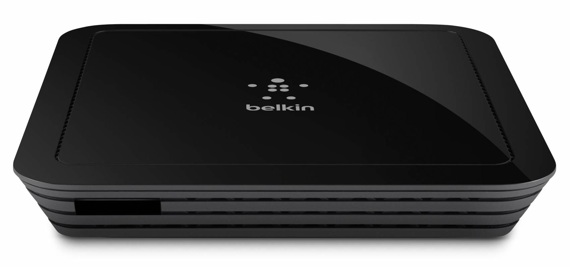 The @TV has composite- and component-video source feeds, plus analogue audio, and it'll output signals through a second set of these ports. It also has an IR transmitter on a cable to remotely control connected kit.
Mobile devices will be able to access your box over Wi-Fi or mobile broadband. Belkin said computers can access streams too, presumably through a browser. Certainly, it only talks about apps in the context of tablets and smartphones. Both iOS and Android will be supported.

Here's the catch, though. While the app will be (for now) free for tablets, smartphone users will have to cough up $13 (£8), another nod to Slingbox, which notoriously charges a lot extra for smartphone access - £20.99 for its iPhone app, for example.
The @TV itself costs $149 (£95). A UK price has yet to be set. ®
Sponsored: Webcast: Discover and secure all of your attack surface