This article is more than 1 year old
Screen idols: higher resolution means better laptops
Got a fast CPU - where's my ultra-high res display?
Extreme Hardware Intel's latest Ivy Bridge chipset, currently being deployed by every laptop manufacturer on new machines, is capable of supporting resolutions of up to 4096 pixels horizontally, using integrated graphics.
Known as 4K, these ultra-high resolutions are gaining support in professional video cameras. So why do Samsung, Sony, Lenovo and the rest slap a relatively low-resolution, 15.6in, 1366 x 768 screen on a laptop that is maxed out in every other area?
Apple's iPad, which has a 9.7in screen, has a resolution of 2048 x 1536 pixels. That is a pixel density of 246ppi.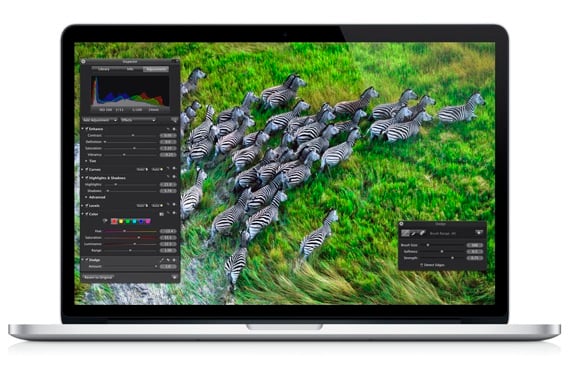 Unique: Apple's 2880 x 1800 'retina display' MacBook Pro
The iPhone 4 and 4S have an even higher pixel density: 326ppi. And Apple is not the only tablet and smartphone manufacturer offering high-density screens. Asus has a tablet in the works with a 1920 x 1080 display, and there are lots of smartphones on the market with pixel densities well above 200ppi.
Squeezed middle
Yet laptop manufacturers stick with screens that can only be described as "HD" because they just manage to squeeze in more than 720 vertical pixels – the fewest required to meet the HD spec.
There are several reasons for this. One is that adding a higher-resolution screen to a laptop adds to the cost of production. When manufacturers are operating on wafer-thin margins and trying to outdo each other on price, there has to be a very good reason for increasing cost – and bumping up the screen resolution just doesn't offer enough wow factor to take that risk.
The second reason is battery life. More pixels means more light, which means more power, and that sucks battery life. It is a trade-off that manufacturers don't think we users are willing to make.
Laptop makers stick with screens that can only be called "HD" because they just squeeze in more than 720 vertical pixels
Resolution is not the only issue, of course. Laptop screens are notoriously poor at displaying consistent colour across a wide viewing angle.
And then there is the thorny issue of how many colours the screen can actually display. Most companies will tell you that their screens display "millions of colours". What they won't explain is that the vast bulk of those colours are fudged.
Twisted logic
That is because most laptops still use Twisted Nematic (TN) displays, which are notorious for poor viewing angles, low contrast and an inability to display 24-bit colour.
Natively, TN panels use six bits to record the intensity of each of the three primary colours shown by a given pixel and use a form of interpolation – as the fudging is known technically – to display the other several million colours visible to the human eye.