The Beatles Yellow Submarine restored
At last, the Blue Meanies on Blu-ray
It's all too much..?
Other supplementals include pencil drawings, photos and storyboards. The Blu-ray slipcase itself comes with reproduction cells of the Fab Four, stickers and the aforementioned booklet. 

Still, while the bonus extras only warrant a B+, the restoration work is A-star. The film looks exceptionally fresh, with crisp colours and no visible print damage; Edelmann's character designs have never looked better.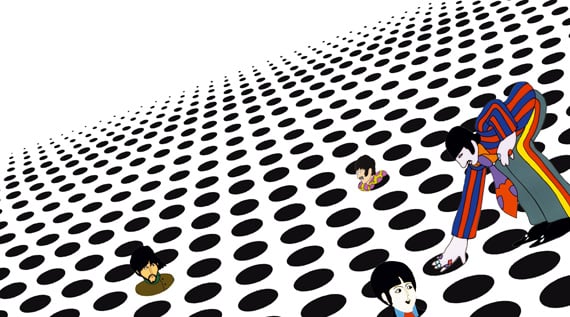 Environmental disaster of the day: 4000 holes in Blackburn, Lancashire
The DTS HD Master Audio mix is also phenomenally fine. Often vintage mono soundtracks given a multichannel make-over sound painfully stretched, but this soundtrack is full-bodied and groovy. When the Blue Meanies attack in the pre-title sequence, arrows soar from back to front in a smooth panning ark. The original mono soundtrack is provided for purists, but it's needle thin in comparison.
Naturally enough, the highlights of the package are the musical numbers. While Yellow Submarine features 12 songs, only two were composed specifically for the feature: All Together Now and Hey Bulldog. However, all lend themselves to multi-channel presentation, with a multiplicity of disparate elements placed in every corner.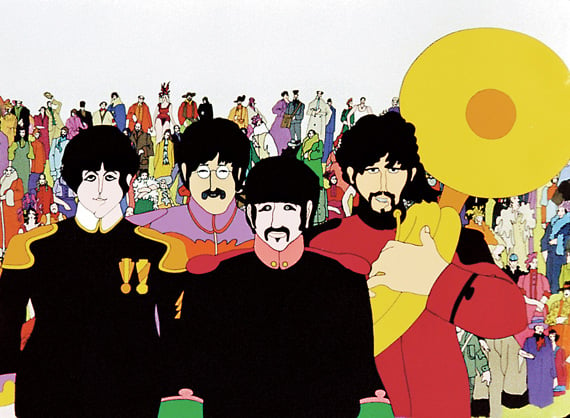 As you can see from the pasty complexion and lack of facial hair, the message is clear that Paul is dead
The film was first remixed into surround for a theatrical re-release in 1999, so this doesn't mark the first time it's been heard in multichannel. What's new here is the detail and musicality of the DTS HD MA encode. The result rivals the multichannel Beatles Love release, still one of my favourite DVD-Audio titles.
Verdict
Overall, it's good to see the Yellow Submarine back at sea. The digital clean-up is a huge success and the DTS remix peerless. Those with any level of interest in The Beatles, or Sixties pop art and psychedelia in general, should find this disc extremely appealing.
Incidentally, during his commentary John Coates talks about an American Beatles cartoon series that his team also produced for King Features, of which I have zero recollection. Did it ever screen in the UK? Feel free to educate in the comments below. ®
More Blu-ray Movie Reviews…

Monty Python
and the Holy Grail
Blu-ray disc set
Aliens
Blu-ray disc set
Akira remastered
Blu-ray disc set
Star Wars:
The Complete Saga
Blu-ray disc set
Jurassic Park
Ultimate Trilogy
Blu-ray disc set

The Beatles Yellow Submarine restored
Frame-by-frame restored psychedelic animation classic with revamped soundtrack to boot.