This article is more than 1 year old
Estonian labs chief says working for Microsoft hasn't changed Skype
Users 'good' for security 'unless there's a court order'
Interview Skype plans to retain its own proprietary P2P protocol even though closer alignment between Windows Live Messenger and the VoIP outfit, at least on some level, is likely in future.
Tiit Paananen, manager of Skype's engineering centre in Tallinn, Estonia, said there would be closer links between Skype and Windows Live Messenger (formerly MSN Messenger), Microsoft's IM client.
"One might naturally expect integration with Microsoft products on various levels," Paananen explained, "architecturally on the technology layer but also in business architecture levels, like wallet and ID management."
Windows Live Messenger and other VoIP products rely on Session Initiation Protocol (SIP) but Paananen expressed reservations about the capabilities of this technology compared to its own proprietary software.
"SIP has been used in other VOIP products but Skype needs extreme scalability," Paananen explained.
Skype supports SIP (and circuit switching) in its Skype Connect virtual PBX product. The availability of this type of business technology shows how far capabilities have advanced since Skype was founded in 2003 (the firm was sold to Microsoft last year, after an earlier acquisition by eBay).
Paananen said that the firm is continuing to innovate. Better conferencing experience, an audio interface to control Skype calls, and even better noise cancellation are features that Skype users have on their wish list. While reluctant to discuss product roadmaps, Paananen said the introduction of these kinds of features and others was on Skype's radar.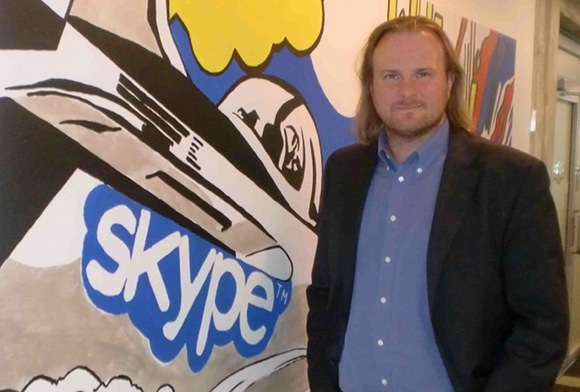 Tiit Paananen, boss of Skype's engineering HQ in Estonia
VoiPrivacy
Our visit to Skype's offices in Estonia coincided with a NATO-organised conference on cyber conflict. The ability of law enforcement or intelligence agencies to tap private communications was one of the many topics discussed at CyCon.
Asked what expectation of privacy consumers could enjoy when using Skype, Paananen said that the firm "worked according to the laws of various countries".
"Unless there is a court order to record conversations then Skype users are good," he said. Paananen acknowledged that man-in-the-middle attacks using forged digital certificates – for example the DigiNotar attack directed against Iranian internet surfers – could threaten this assumption of safety, albeit in very limited cases.
Malware - wherever it originates - is an even more obvious threat to the privacy of Skype users. Trojans, including one disguised as a Skype encryption tool, have recently been deployed as tools to spy on Syrian dissidents, for example. Back in February security watchers warned of a password-snatching Mac Trojan spreading in the wild. Last October German white-hat hackers captured a Trojan which they discovered was capable of tapping Skype calls and IM chats sent through infected devices.
What these types of attacks illustrate is that it is easier to plant a back door on targeted machines than to "decrypt and de-obfuscate Skype chats and calls", Paananen argued.
"It's clear that it's easier to eavesdrop [on an] end user machine then try to tap into Skype's cloud," he said.
Now hiring
Skype is a division within Microsoft but is allowed freedom within this structure, according to Paananen, who said the software giant plans to retain the brand.
"We've kept the same development methodology since being acquired by Microsoft," he explained.
Skype employs 400 people in its Estonian office, 300 of whom work as software developers or engineers. It hopes to hire 40 more people this year. ®