DDR 4 sets the pace for fast memory
Ramping up the Ram
---
Extreme Hardware Reducing the size of chips has benefits beyond those seen in CPUs and GPUs. One other key component to gain an advantage is memory.
The specification of the next generation of memory module, DDR 4 (DDR stands for 'double data rate'), is currently being finalised ahead of its anticipated launch later this year. It will use less power than today's DDR 3 and is based on a 32-36nm fabrication process, the numbers referring to the width of transistors used in the chip.
The first generation of DDR4 modules will run on a voltage of 1.2V, compared with DDR3's 1.5V requirement. That is expected to fall to 1.05V in later generations.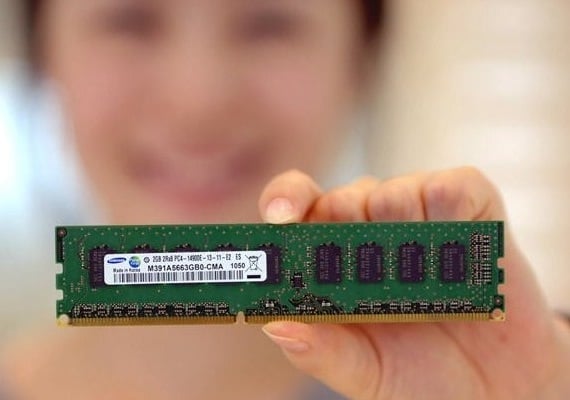 Samsung's first DDR 4 Dimm
In addition to lower power consumption, the other key advantages of DDR4 over its predecessor are higher clock frequencies and a wider range of transfer speeds.
While DDR3 was limited to transfer rates of 800-2133 million transfers per second (MT/s), the DDR 4 spec will allow for transfer rates of between 2133MT/s and 4266MT/s.
The topology, or the way components are connected to each other, of DDR4 chips is different too. While DDR 3 and its predecessors used a multi-channel setup to maximise data throughput, DDR 4 uses a point-to-point topology: each memory module has its own dedicated line to the memory controller.
One of the consequences of a point-to-point design is that every DIMM slot needs to be filled to maximise performance.
Maximum performance
The first DDR 4 module was developed by Samsung, which announced its completion in January 2011. The company claims the new DDR 4 Dram module can achieve data transfer rates of 2.133Gb/s at 1.2V, compared with 1.35V and 1.5V DDR 3 Dram at an equivalent 30nm-class process technology, with speeds of up to 1.6Gbps.
When applied to a notebook, it reduces power consumption by 40 per cent compared with a 1.5V DDR 3 module, Samsung adds.
The potential gains for a huge data centre are vast
Samsung also said that its initial DDR 4 modules would be able to run at speeds up to 3.2Gb/s, compared with a maximum of 1.6Gb/s for DDR 3.
Reduced voltage is not the only way that DDR 4 reduces power consumption. It uses an improved version of the pseudo-open drain interface seen in graphics-specific DDR 3, which draws current only when it is connected to ground and thus uses relatively little power.