This article is more than 1 year old
NASA counts down to nuclear tank invasion of Mars
Blitzkrieg from space over in 7 minutes of terror
New vid It's T-40 days unti NASA's nuclear powered Curiosity rover arrives at Mars and commences re-entry and descent to the surface beneath its hover-rocket sky crane lander - and the space mission's engineers are biting their nails.
It's not the first time the space agency has talked about "seven minutes of terror". Pretty much any landing it does is an experience with a high pucker factor due to the time and money that goes into spacecraft, and it's no different for the Mars Science Laboratory team.
"We've got literally seven minutes to get from the top of the atmosphere to the surface of Mars, going from 13,000 miles an hour to zero in perfect sequence, perfect choreography, perfect timing," engineer Tim Rivellini says in a new video from NASA about the landing.
"If any one thing doesn't work just right, it's game over."
Curiosity will be lowered from a first-of-a-kind rocket-powered sky-crane. All three bits of space gear – the MSL, the rover and the sky-crane – will be slowed by a parachute and protected by a heat shield, which will then be jettisoned, leaving the sky-crane to slow the nested rover even further with its boosters.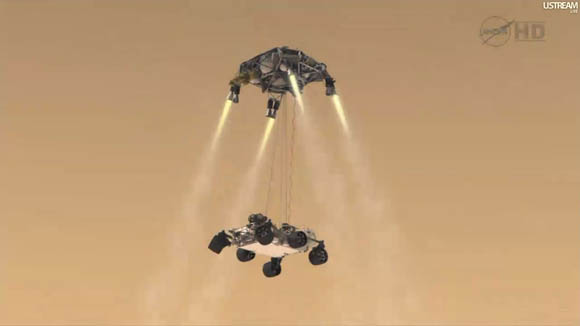 The Curiosity rover and the sky-crane. Illustration courtesy of NASA
Once the whole lot is at nearly zero velocity, the sky-crane will let go, easing the rover to the ground on a rope. The onboard computer will tell Curiosity when it is on the ground so it can cut its "umbilical cord", leaving the crane to blast away from it to a crash landing elsewhere.
"Twenty metres above the surface, we have to lower the rover below us on a tether that's 21 feet long, and then gently deposit it on its wheels on the surface," engineer Adam Steltzner said. "It is the result of reasoned engineering thought, but it still looks crazy."
Curiosity, which will be searching Mars for any sign that the planet is, was or could be supporting life, is due to land on the Red Planet at 15.31 GMT on 5 August (08.31 PST). ®