This article is more than 1 year old
Google wingmen rain Project Glass on San Francisco
Wearable computers launched in style
Google I/O Google's Sergey Brin has confirmed that the first units of Project Glass, his pet project of wearable computing systems previewed earlier this year, will be available to US customers early in 2013.
The glasses have a screen above the right eye, with a CPU, wireless radios, memory and a camera with a touchpad and control button built into the frame. The first build of the computing spectacles, Project Glass Explorer, ships with an eye-watering $1,500 price tag. Only attendees at this week's Google I/O developer conference in San Francisco can order them at present.
"This not a consumer device, it's rough around the edges," Brin said. "It's for those that have to be on the bleeding edge of technology."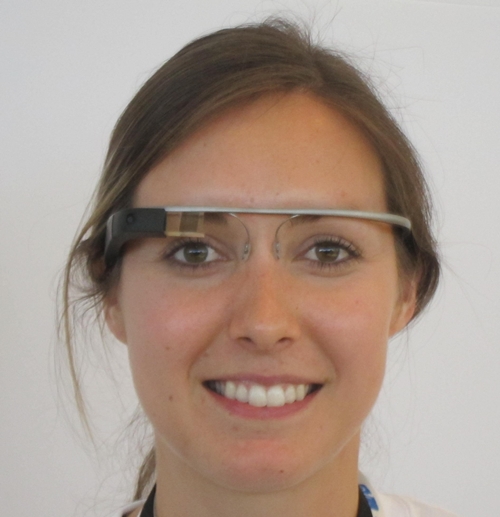 Google staffer shows off prototype system
It's also for people who are willing to shell out the price of a top-of-the-range laptop for an experimental prototype that may never see the light of day - such as That the developers who queued up in large numbers at the Moscone Center, home to Google I/O, to order their pairs.
Google is further restricting their use to business, industrial and medical use – so don't expect to see them in the shops any time soon.
Brin introduced the Project Glass demonstrations with a publicity stunt that will take some beating.
Two professional skydivers in wing suits parachuted from a blimp 4,000 feet above the Moscone Center, maintaining a constant steam of video until they landed. They handed the glasses to some trick cyclists to get them to the edge of the building, where a waiting abseiler dropped them down for delivery to Brin.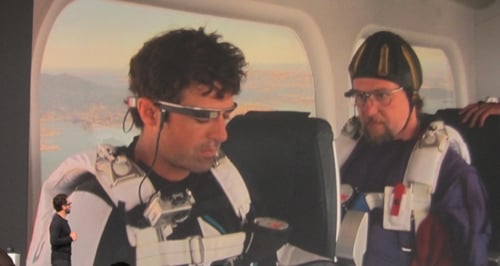 Freefalling Project Glass team look nervous
The stunt was dreamed up a few weeks ago and took a special dispensation from the San Francisco authorities to allow the first (legal) wing suit jump over a US city. Maintaining data transmission in freefall also took some jiggery-pokery, including a makeshift wireless antenna boosted by an adapted wok and specialist equipment for the freefallers.
Tomorrow we want to see a bikini-clad Larry Page leaping over a tank of sharks on a motorbike. Remember where you read this first. ®