We're certain that plenty of Reg readers have at one time or another been given short shrift by the company finance department for presenting a dodgy receipt as part of an expenses claim.
Last weekend, though, we obtained a bit of paper which we reckon would be hard to beat if you're determined to be shown the beancounters' door.
Here's the story: Sunday afternoon, eight mates, local bar, robust quaffing of ale, bit of nosh. Nothing exceptional there, until after four or so hours we asked the owner how much we owed.
The quoted figure was certainly designed to deliver a solid kick to the wallet, so cue howls of protest and demands for proof.
"No problem," countered the owner, adding: "I've got it all written down properly." He then rushed off to get this illuminating piece of paper: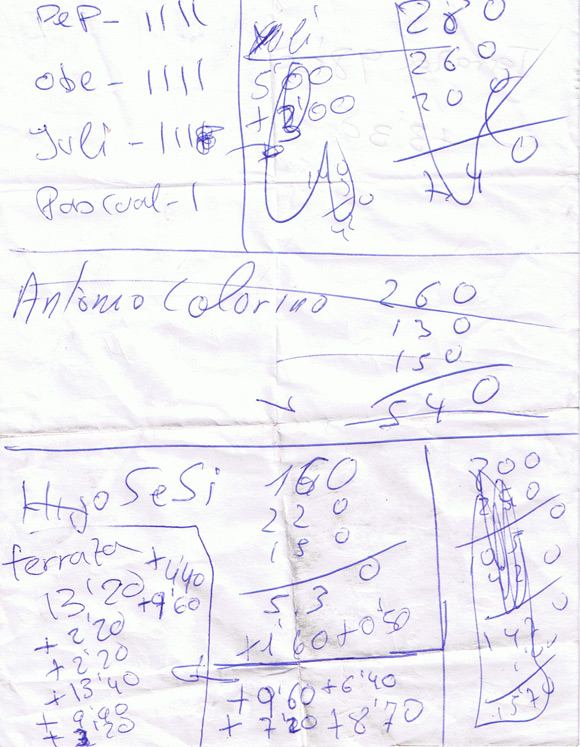 I should point out that the critical part of the document is at the bottom left, under "terraza" ("terrace", the best spot for unfurling sheets to the wind on hot summer days).
I have no idea who Pep, Obe, etc, are, or for that matter who on God's Green Earth Antonio Colorino might be, and I think it's fair to say this is not any sane person's definition of "written down properly".
Here's the reverse of the sheet, showing the total. Note the extra €3.30, representing the three additional beers we necked while arguing the toss:

Of course, we eventually coughed the full amount, although I did explain to the owner I very much doubted the El Reg finance Soviet would concur with the Spanish definition of "properly", or indeed "written" in this case.
He insisted he'd had some builders in the week before who'd been more than happy with a similar lunch bill to lay before the boss for reimbursement.
Well, there's only one way to settle the matter, and I dispatched the miserable scrap of paper to Reg expenses Tsarina Caroline for her opinion.
She said: "Haha... God loves a trier but no one would get away with that these days!!"
So there you have it. The golden days of expenses receipts scribbled on the back of beer mats are indeed over, in Blighty at least. ®