Apple's iOS devices account for 65 per cent of mobile web traffic versus Android's 20 per cent, or the two operating systems are neck-and-neck at about a quarter of all mobile web traffic apiece.
Yes, you read that correctly. There is, indeed, that much disparity in two recent mobile web-usage reports, one from Net Applications' stat service Net Market Share, and another from StatCounter's Global Stats.
As Mark Twain was wont to say, "There are three kinds of lies: lies, damned lies, and statistics." In this case, however, a little digging beneath the surface of each data set show that both Net Applications and StatCounter may indeed be correct.
Let's start with the most obvious difference. Net Applications measures both handset and tablet – mostly meaning iPad – web usage, while StatCounter defines a mobile device as being "pocket-sized".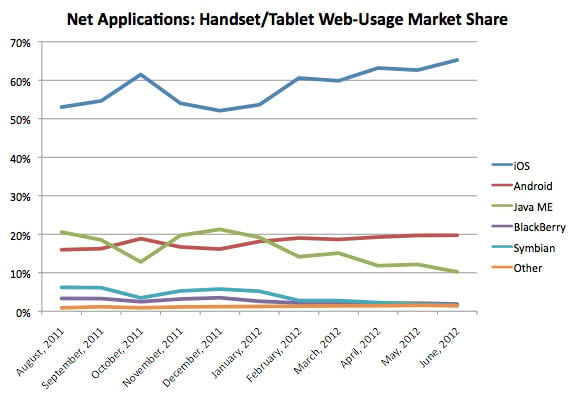 Either iOS is beating the stuffing out of Android ... (data: Net Applications)
I don't know about your trousers, but the only pocket into which we might envision an iPad – or, for that matter, a Samsung Galaxy Tab or any other far-behind iPad competitor – fitting would be in our London Fog Bogart Micro. If that.
With that in mind, and knowing how the iPad is heavily used as web-consumption device, the difference between Net Applications' and StatCounter's web-usage stats might be quite reasonable – but there's more.
Net Applications measures unique users, while StatCounter measures page views – a huge difference in methodology. StatCounter argues in its Global Stats FAQ that to base stats on uniques distorts true usage levels.
Net Applications disagrees, arguing in its Net Market Share FAQ that "Counting pageviews for market share reports would be susceptible to bot attacks and inexplicable jumps in market share that don't represent the true nature of the market."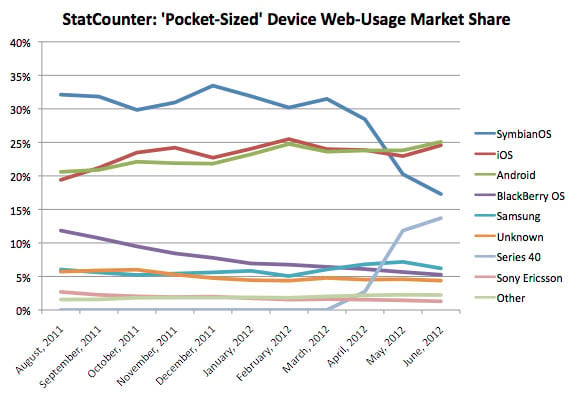 ... or Android and iOS are neck-and-neck. Or maybe both analyses are correct (data: StatCounter)
From here on the sidelines, The Reg sees value in both metrics – as long as you keep in mind the pros and cons of each. Page views can give a deep look into how active an average user may be, and uniques can provide less-distorted analysis of, for example, which OSes and browsers are being used in the wild.
And then there's data weighting. As Net Applications explains, they weight their stats based on CIA-provided data on per-country internet usage. "If our global data shows that Brazil represents 2 per cent of our traffic," they say, "and the CIA table shows Brazil to represent 4 per cent of global Internet traffic, we will count each unique visitor from Brazil twice."
From Net Applications point of view, "Country level weighting removes any bias by region." StatCounter – surprise! – sees things differently. "Weighting stats means that the stats are only as good as the weighting methodology used. If the weighting data is inaccurate or out of date, then it renders the data completely incorrect."
There are other differences between the two major web-usage stat providers, not the least being sample size: Net Applications tracks 160 million unique visits (apples) at 40,000 websites per month, while StatCounter keeps tabs on 15 billion page views (oranges) per month at over 3 million websites.
Both data-set sizes, we aver, should be considered to be of statistically significant size. You may disagree, but what is difficult to disagree with is that the two companies measure mobile web usage in such different fashion that to claim that one is indisputably "right" and the other indisputably "wrong" is missing the point – they're merely different.
That said, they do both provide useful trend analysis, if not rock-solid market share numbers. And any way that you choose to look at either company's trend lines, it's not a happy time for RIM and its BlackBerries. ®