The Grundy NewBrain is 30
The revolutionary product that came too late
---
NewBrain released
Two models were offered: the £233 Model A and the £267 Model AD. The A had 32KB of Ram, a Zilog Z80A processor clocked at 4MHz, and proprietary printer, communications and twin tape ports, plus monitor and TV feeds. An expansion port on the back could take 64KB, 128KB, 256KB or 512KB Ram packs. The packs had pass-through connectors, allowing up to 2MB of memory to be added, way more than rivals machines could provide.
The AD also sported the well-remembered vacuum fluorescent 16-character, 14-segment display. It could also take the (optional) long-promised battery pack.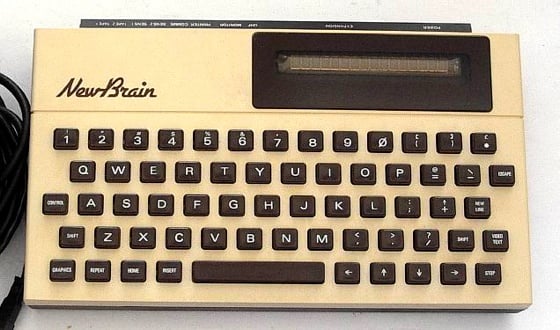 The Model AD came with a built-in 16-character displsy
Novelly, the NewBrain shipped with a Basic compiler to convert software into machine code in one go, rather than simply interpret programs line by line, as most other micros did back then.
Your Computer said of the machine at the time: "It could not be recommended to a beginner but could prove attractive to an experienced user who is prepared to explore some of the possibilities only hinted at in the manual.
"As a business machine, the NewBrain should do well: its highly adaptable operating system and large potential memory makes it suitable for applications which were hitherto only within the scope of machines several times as expensive."
Missing the market
So much promise and yet… it's the same old story. For instance, Grundy said the NewBrain would run CP/M - a version of the OS would be out by January 1983. It didn't appear for many more months. Users had problems with the cassette port. Promoted peripherals, such as floppy and hard drive controllers, expansion modules and a special multi-module housing, launched much later than announced, if they arrived at all.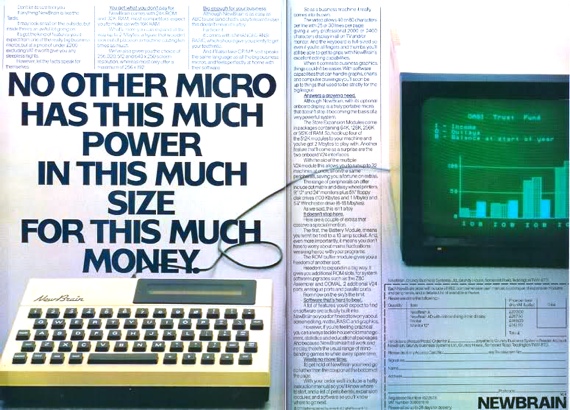 Promoting the NewBrain
Yet the potential pulled in punters. Sales were slow initially, but picked up in the Christmas period, more so than Grundy was at first able to satisfy. As a result, the decision was made early in 1983 to ramp up production tenfold. But demand slumped, in part on the back of delays getting the promised peripherals out.
Basil Smith and Mike Wakefield, who had been working on the NewBrain since the very beginning, quit around this time. So closely were they associated with the machine - and so deep their knowledge of it - it would have been hard for their remaining colleagues to continue the project.
They wouldn't need to: Grundy pulled the plug later that year. Grundy Business Systems was closed down. It is thought some 50,000 NewBrains had been sold by that point. The remaining NewBrain stocks were sold to Dutch firm Tradecom, which installed them in schools in Holland. ®
The author would like to thank all those fellow enthusiasts for scanning and uploading so many adverts and manuals from the 1980s, without which this article would have been much less detailed.