iPhone spontaneously combusts on CCTV
Apple takes the heat
We all know iPhones are hot property - as their owners generally tell you. However, when one blows up in your pocket, you know its probably time to stop bragging.
That's what happened to 17-year-old Henri Helminen, whose three-month-old iPhone started smoking profusely of its own accord, causing the Finn to quickly reach for the handset and toss it away, Finnish publication Kauppalehti reports.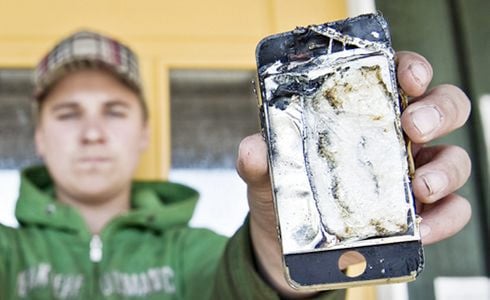 Source: Kauppalehti
The entire incident was very conveniently caught on CCTV camera, so you can make your own assumptions as to its authenticity. It's difficult to imagine exactly how you would really react in such a situation, though.
Either way, the video should be enough to make a claim against Apple for a compensation fee. Failing that there's always £250 up for grabs on You've Been Framed, right?
Fortunately for Apple, its biggest iPhone rival, the Samsung Galaxy S III, has been criticised for overheating too, with similar burnout issues reported.
Still, regardless of manufacturer, it's always good to remember that if you ever find your own phone in need of extinguishing... there's a tap for that. Badum tish. ®