Bill Gates foresees a future without PCs or tablets - where there are only "Surface-like devices" - he told PBS chat show host Charlie Rose last night.
Evangelising about the new Microsoft tablet – Surface – Gates sketched out his vision for a world where everyone is using the Surface, saying that the device which promises to combine the PC's value as a creative tool with the tablet's strengths as a consumption device, will "change the rules".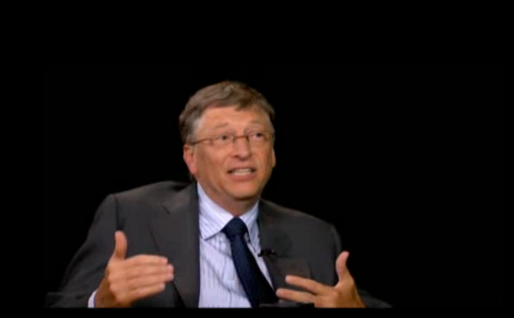 In the future, there will only be one
Quizzed as to whether the Surface would cannibalise the market for the PCs - he said that it was possible people would no longer even think about PCs after the Surface comes out:
Whatever you call Surface, they will want to have it. We'll call it a Windows device. When you have two device categories and merge them together, there's always the question of which name survives. Because the PC has been the super-seller ... it has a keyboard and a breadth of rich inputs.. maybe we'll call them PCs.

Or maybe we need a new term: maybe we'll just called them 'Surface-like devices'.
Gates also talked about his "lost tablet" in the interview – the touch screen device he rejected because it had no keyboard when Microsoft's engineers presented it to him in 1998 – and attributed Steve Jobs's success with the iPad to passing a certain critical mass.
You can have something that is almost good enough, that is forgotten for all time, but you can have something that just crosses that threshold, even though it came later and goes gigantic.
But he did admit that iPads were good:
He did some things better than I did. His timing, the engineering work, the package that was put together. The tablets we had done before weren't as thin, weren't as attractive as what came along.
Prodded over whether Apple would have to play catch-up with Microsoft once the Surface goes live, Gates was a little circumspect.
I think it's premature to act like that's been decided in the marketplace. I certainly think that's a strong possibility and my bias is that yes, this is a seminal event of taking the best of the two worlds.

It's a wonderful thing and I can't wait till it's shipping.
Gates also spoke about the drive to succeed, saying that it takes a type of fanaticism to build an Apple, a Microsoft or Facebook.
It's when you work day and night and don't worry about the possibility of failure. Every setback is just a reason to work a little bit harder and you really know what you're trying to achieve.
®
Similar topics