New gov.uk site hits beta, flashes SINGLE typeface to punters
Designer: People want to get in, get what they want, get out. Quickly
---
The government has released the beta version of its new digital portal – Gov.UK – with a search-focused homepage and a batch of fresh content.
The site – which will pull together all government services in a smooth, sexy web package – is slated to go fully live by the end of 2012; the soft launch today is to test out features, get feedback on the design and introduce some widgets to the Great British Public.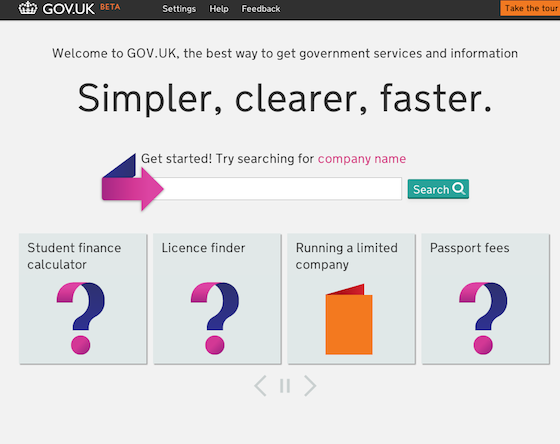 The new homepage: with search function at the centre
The new design is stripped-back, incorporating just one typeface - New Transport - and a simple central column of text a la tumblr. The site relies on sizing to create distinction between different bits of text - whacking up font size to emphasise headlines. New Transport is a digital version of the typeface used on UK road signs, we're told.
The homepage features a icon carousel and a central search box based on the Google homepage. On other pages a three-column design clearly shows users where they are on the site, while a "related" box flags up related content.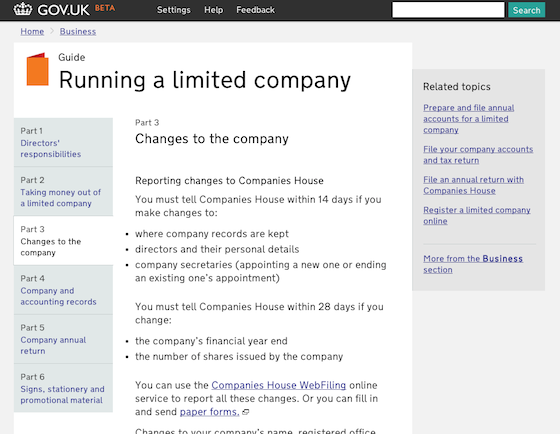 Gov.uk: making bureaucracy fun
The look and feel of the website is based on seven design principles, which include "start with (user's) needs", "design with data" and "iterate. Then iterate again". According to the site's mission statement, the aim is to provide digital services, rather than "just a website".
Ben Terrett, head of design at Government Digital Services, wrote about his vision for the site back in January, referencing, among other things, the challenges faced when road signs were redesigned in the '60s:
The design challenge here seems to be – don't avoid the obvious. Government websites are needs driven and what people want to do is get in, get what they want and then get out. Quickly.
Yesterday, Government Digital Services announced its new editorial style guide, setting out among other things that the tone of the site should be - "welcoming and reassuring".
The Cabinet Office has a budget of £22.2m for its "digital-by-default" agenda, and part of that will be spent on replacing direct.gov.uk with gov.uk.
Criticisms of the site so far include that the font doesn't display properly on Windows and that it is not yet optimised for mobile. ®