Google has extended its indoor mapping, launched in America last November, to the UK, providing guidance around any property the owners care to share.
Google is priming the pump with floor plans for 40 sites around the UK, including Kings Cross, City Airport and the V&A, but anywhere else that wants visitors to be able to navigate via Google will need to upload their own floor plans for the Chocolate Factory to integrate.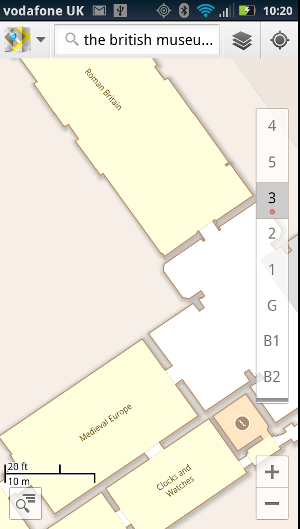 Never get lost in a museum again, and apparently that's a good thing
The capability has been in Google Maps since version six, which was just lacking the data itself, so most Android users should now be able to zoom in to The Victoria and Albert for a floor-by-floor guide.
We say "should" because right now not many of the listed sites are working. The National Maritime Museum is a blank box, as is the aforementioned V&A, though the British Museum is working perfectly so we're assuming a few teething problems.
What we really want to know is if the Olympic venues will be uploading their floor plans any time soon. Google won't mention the word "Olympic" of course – the company isn't a sponsor so isn't allowed to reference the Games at all – so we've put the question to Olympics organiser LOCOG and will see what it says.
We're not that optimistic: Google's indoor mapping was launched in the USA back in November last year, and more than six months later there are only 51 listed sites (though some of those are department-store chains), and none are the supermarkets which are surely the indoor place where one is most often lost.
Aisle 411, which launched in November 2010 with the intention of mapping supermarket shelves whether or not the supermarkets wanted it, is still rolling on. Supermarkets don't always want to be mapped; controlling the flow of humanity is part of their business models, so it's hard to imagine they'll be contributing to Google Maps any time soon.
It will be interesting to see which businesses will take the Googleplex up on the offer of uploading their own maps, and if the other mapping companies (Apple, Nokia) will ever feel the need to compete in this particular niche. ®
Similar topics