Mars Attacks!
Tim Burton's humorous take on the invasion genre has roots in a classic trading card game and was quite the top trump when it hit cinema screens in 1996. The crazy, big-brained aliens in Mars Attacks! attempt a typical Earth takeover with ray guns and brute force, destroying various wonders of the world and killing the president. Wonderful must-see Martian masterpiece with an all-star cast to boot.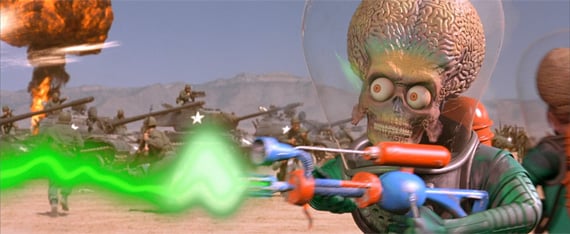 The Quatermass Experiment
This six part serial that ran on the Beeb in 1953 told the story of the first manned flight into space. Of course, at that time, this was a theoretical imagining. In The Quatermass Experiment, just one of the three astronauts involved return and with that particular crew member acting strangely. It soon becomes apparent an alien presence is at work and the safety of planet Earth is in doubt.
The show provided inspiration for various sci-fi ventures, including Doctor Who, 2001: A Space Odyssey and Alien.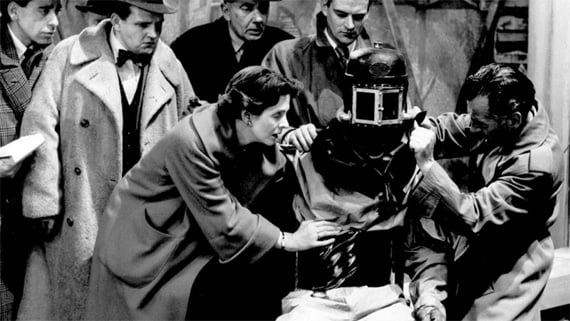 They Live
John Carpenter's 1988 film sees a drifter come into possession of special sunglasses that reveal the true bleak nature of a world where most people with authority are actually humanoid aliens.
The theme They Live provides takes a stab at consumerist culture and a declining economy swallowed by a culture of greed. Sound familiar? Kill them all.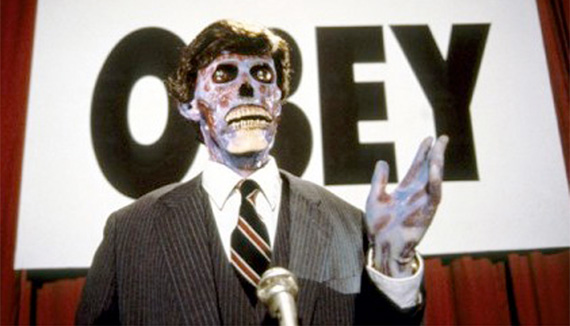 V
If David Icke is to be believed, the Earth is already run by a lizard race that cloaks its identity in humanlike form. The 1983 miniseries V vaguely resembles such conspiracy, with reptilian 'Visitors' that rock up in a synthetic human-like skin and are full of deceptive promises of peace.
As the aliens' real intentions begin to seep through to the unsuspecting masses, a resistance is formed and a battle to expose the Visitors ensues. The series was remade a couple of years ago, however, the second season failed to impress critics and ABC cancelled the show.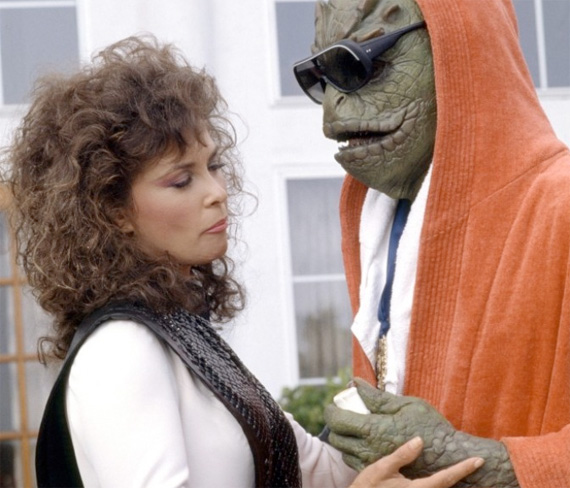 War of the Worlds
Well, we couldn't leave it out could we? H. G. Wells' 1898 novel is one of the earliest accounts of conflict between mankind and aliens. It's a masterpiece that has spurred countless film and TV adaptations, as well as one hell of a musical rendition. This first-person account of the country as it finds itself gripped by Martian invasion is split into two parts, describing the invasion itself and life under alien-rule, respectively.
Word has it, Tom Cruise stood on the novels during filming for the 2005 War of the Worlds remake, so he wouldn't look like a leprechaun in the final piece. OK, I don't know that for certain, but it figures, right? ®