YouView's long-awaited - no longer eagerly so, perhaps - set-top box will arrive in the shops of Britain's best-known electrical retailers "by the end of the month", but you'll have to pony up £300 for one.
Two years on from its original launch window, the platform, which now combines Freeview over-the-air programming with net-delivered catch-up services from stakeholders the BBC, ITV, Channel Four and 5, will debut in a Humax-made twin-tuner 500GB DVR, the DTR-T1000.
When it comes, YouView Chairman Lord Alan Sugar enthused today, it will mark "a great moment in British television".
Lord Sugar has a way with words, and while it's true that the YouView user experience is indeed a much more straightforward, less cumbersome one that most existing DVRs and smart TVs provide, YouView has some way to go if it's to be the landmark the Apprentice star believes.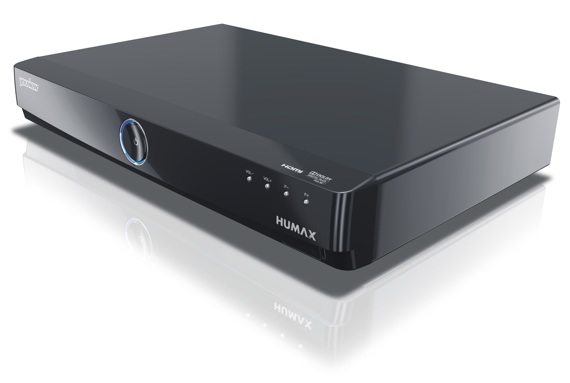 YouView's techies have created an aesthetically pleasing, unobtrusive UI that quietly demarcates IPTV content from broadcast material and doesn't make a big deal out of the difference.
The box's search operates across upcoming Freeview and Freeview HD transmissions and - eventually - what pay-TV partners, initially ISPs TalkTalk and BT, have on their schedules. It already covers what the free-to-air catch-up providers have in their recent and longer-term programme archives.
All this, plus standard Freeview HD+ DVR functionality.
The trouble is, of course, a lot of folk own DVRs already. No problem, says the ebullient Lord Sugar, "this is the box their going to replace their DVRs with".
The hook is the integrated catch-up content, though many a DVR and a smart TV provide less joined-up access to these services already. Not many include all the current major terrestrial broadcasters' on-demand services, however, but the YouView box does.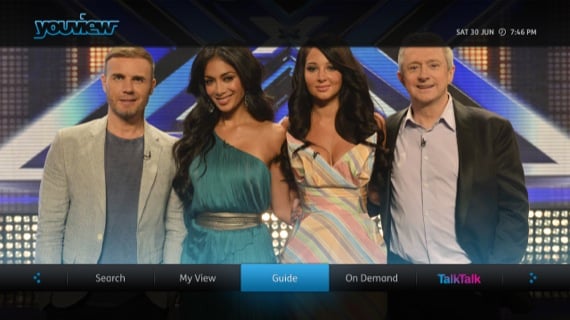 More are coming. Following the Humax box's retail debut, YouView will add STV during the summer, along with a new channel, Now TV, run by Sky - presumably an advertising exercise masquerading as a best-of-Sky offering. We shall see.
TalkTalk and BT will offer their boxes separately, and while BT maintained a stony silence today, TalkTalk said it will reveal its plans for the box, including pricing and subscription packages, at the end of this month.
While neither ISP said as much, but Lord Shug implied they'll subsidise their boxes on the proceeds of broadband and/or content subscriptions, and both will be able to offer their customers content not available to other YouView box owners.
Ditto other providers: select a catch-up or archive programme from the search or EPG panels and YouView runs the appropriate player app, though it goes straight to the show rather than leaving you in the menu, as smart TV, set-top, mobile and PC apps do. Stakeholders' apps are free to offer whatever mix of free and premium content as they wish - YouView's remit ends at the point UI hands over to the content provider's portal.
Content providers can bombard you with ads - like those ITV plays at the start of catch-up content - but, Lord Sugar suggested, YouView won't.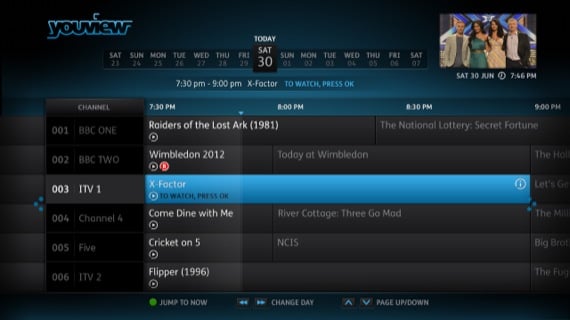 It's all nicely done. The question is simply whether early adopters will be willing to cough up £300 for an experience that's, yes, better than competing products but, no, not unique.
These are tough times for the consumer electronics business. Lord Sugar's justification for the high price is a need to demonstrate the platform's full capabilities and that can only be done with as fully functional a box as can be delivered.
But he held out the prospect that a single-tuner, DVR-less device may come to market in future. That depends on Humax, of course, currently the only YouView hardware licensee - or, at least, the only one the company will discuss. Talk about other potential partners is unsurprisingly nebulous - neither party would ever want to prejudice negotiations, of course - but today's launch lacked even the hints often dropped events like these to encourage journalists to believe that vendors can't wait to sign up.
YouView, then, really is in classic chicken-and-egg territory. Until it shifts boxes, it can't demonstrate demand. Without a sure sign that the public is interested, it'll have a harder job enouraging partners to sign up. But without the partners, it'll be a lot harder to convince punters to cough up.
Which leaves the platform with a heck of a potential - and one of the best UIs out there - but one that it seems a long way from fulfilling. ®