The touchscreens that push back, thanks to Brit hi-fi boffinry
NXT's rise, fall and rise from helicopters to fondleslabs
---
You'd be forgiven for never having heard of flat loudspeaker designer NXT. Mission, Quad, Wharfedale and Cyrus are the brands it all but destroyed before ending up as one of the UK's smallest listed companies, though one with aspirations to rise again.
The technology behind NXT was developed by DERA, the UK's military research department until 2001, which wanted to squeeze loudspeakers into helicopters for noise cancellation.
When that proved impractical the tech was sold off to a consortium of hi-fi manufacturers, who floated a company that comprehensively failed to capitalise on the idea despite throwing investors' money around like a City banker at a champagne bar.
Now the remaining fragment is trying again, this time pushing the same tech into tablet computers and achieving some quite remarkable results.
How boffins started off on a bum note
Mission, Quad, Wharfedale and Cyrus are names with which one can conjure sound: back in the 1980s these companies were the foundation of a UK hi-fi industry based around Cambridge and Huntingdon.
But when they joined up in the early 1990s as The Verity Group to form NXT and exploit DERA's technology commercially, they were biting off way more than they could chew. It was a stomach-turning feast that ended with first three being sold off to International Audio Group and Cyrus being bought out by its own management.
The technology is called Distributed Mode Loudspeakers, and uses exciters (or transducers) to create sound from a flat panel regardless of its shape or size. The tech works, although it struggles to reproduce low-end frequencies (prompting early incarnations to come with a separate bass unit) and the company had a hard time selling an unknown product into the famously picky audiophile market that was vanishing just faster than they could exploit it.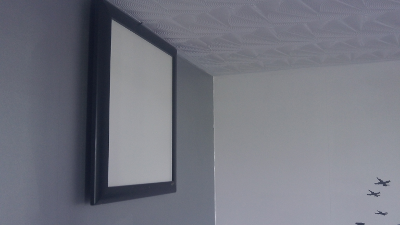 What the most elegant walls were wearing, circa 1995
NXT planned to create the technology, and then license it out to companies selling loudspeakers. The problem was that no one was making loudspeakers anymore as integrated hi-fi systems came to dominate. In 1992 Verity lost almost £3m, a figure that jumped to more than £4m a year later. The company stayed in business by raising more capital, and eventually floating NXT on the London Stock exchange, a listing which lives on to this day despite the change of name and hugely reduced headcount.
At its peak NXT employed about 250 engineers at its shiny Huntingdon headquarters. Now HiWave (as NXT became in 2010) has only five engineers to its name and runs out of a Regus suite in Cambridge.
Those 250 engineers did progress the product range, which by the company's own admission started out as "a cut-down tweeter". The NXT business model was to patent the science and charge others to use it, but licensees had an irritating habit of demanding technical support in design and deployment - something fellow Cambridge tech darling ARM does so very well but NXT hadn't counted on.
The company's own brands could be relied upon to use the tech, as the Wharfdale speakers shown above prove, but other clients were few and far between and the money started running out.
Lay your singing cards on the table
NXT shed staff in an annual cull they came to dread, and sold off its still-valuable brands to raise much-needed cash: Mission, Quad, Wharfedale were flogged to the newly-formed International Audio Group while bosses at Cyrus bought out of NXT and returned the company to its high-end audio roots.
This left NXT needing more customers, and this is where Hallmark, the purveyor of greetings card tat, comes in.
The cards had to be big as it was still the only way to get any low-end frequencies out of the technology, but it's a long way from the quality hi-fi to which NXT had aspired.
However, Hallmark wasn't the lowest point in the NXT story. The desperation to get licensees was so great that speakers were embedded in all sorts of strange things, notably these flat-pack cardboard monstrosities called Sound Pac: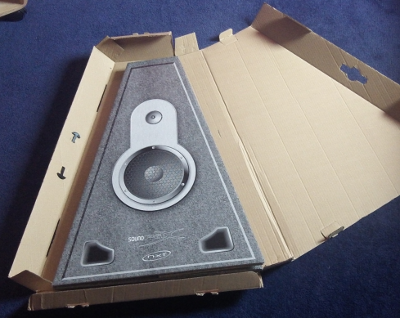 They sound almost as good as they look, but in their defence they were astoundingly cheap
Products of this kind weren't just dragging the brand down (every product was required to bear the NXT logo, something those still at the company have lived to regret) but NXT also had a devil of a job collecting its licence money. Tracking the number of products produced was next to impossible without employing someone to stand at the end of the production line, leaving the company reliant on distant manufacturers to honestly report their production.
But that wasn't the only problem NXT had: the technology was still far from perfect and the industry had moved on to micro hi-fi kit where overall size was the critical factor, rather than how thin they can be made. That remained true right up until Apple decided that being thin was all that mattered in tech, and suddenly a thin speaker was a hot property.
These days HiWave is trying to expunge the old NXT-branded products from the market. It still supplies transducers to Parrot for its Stark-designed speaker, and recently signed a deal to embed one of their speakers into an iPad case created by a KickStarter project (the "onanoff"). They've also refined the technology to detect fingertip pressure and respond as necessary with tiny vibrations, producing the most compelling haptic feedback ever graced by a Vulture digit.