This article is more than 1 year old
Review: Samsung Chromebox
Terminal decisions
Moan, moan, moan: that's how I suspected this review would come across as I pondered on my initial impressions of Samsung's Chromebox – its Mac Mini-styled desktop computer that runs Google's Chrome OS. You know, the online operating system that turns your computer into paperweight when there's no internet connection. And then I paused for a moment – this is a Samsung product, but my heavy sighs and mutterings have little to do with the hardware.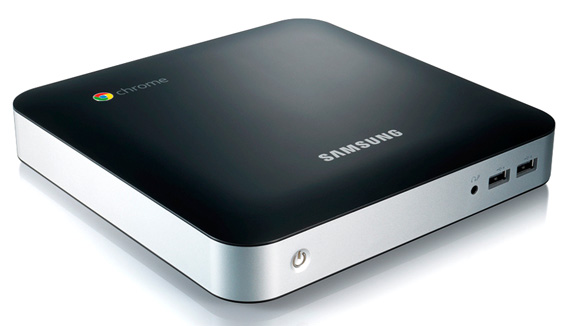 Samsung's Chromebox Series 3 XE300M22 Chrome OS cloud computer
So is this review going to be another kicking of Google's Chrome OS? As if you hadn't read enough of those grumbles or even seen it coming. Few products are perfect, and some are unique. And there are numerous variations in between but to stick with conventional personal computing models for the moment, the Samsung Chromebox is just like any other PC – sort of.
After all, the hardware that Samsung offers isn't exactly game changing. There are six USB 2.0 ports, a couple of full-size DisplayPort connectors and a DVI output. Alas, no HDMI, but you get Gigabit Ethernet, dual-band 802.11n Wi-Fi and Bluetooth 3.0 plus a mic/headphone combo socket at the front.

Full size DisplayPort connections and DVI, but no HDMI
Inside is a 1.9GHz Intel Celeron B840 CPU, which, while not likely to win any prizes at sports days, is a step up from previous versions of this chip family and performs more akin to an old Core 2 Duo. You get 4GB of DDR 3 Ram clocked at 1333MHz, but a mere 16GB SSD. Unsurprisingly, the Samsung Chromebox utilises Intel's integrated HD Graphics core. The unit itself, featuring a plastic top and bottom with metal sides, is a fairly lightweight 800g. Like the Mac Mini, it has vents in the base and gets warm rather than hot.
Currently PC World is selling the Samsung Chromebox for £280, so given those internals and the fact that there's no optical drive, screen or any other peripherals and this particular reseller will flog you a 2.4GHz Celeron-powered Asus for the same price, might give one pause for thought.
And there you have it, Samsung's Chromebox is just a typical desktop PC – sort of.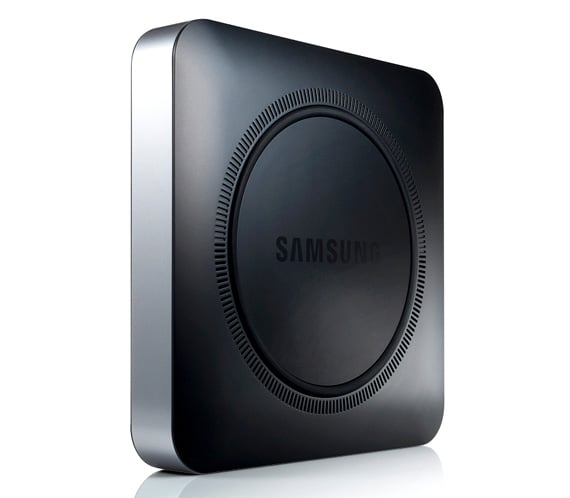 Underside vents look not too unlike the Mac mini
I say typical, because what is PC hardware other than a showcase for a software platform? Buy a Mac and you need to learn its quirks and dabble with the iLife media applications along with iCloud services, if you're that way inclined. Likewise, a Windows PC will endeavour to tempt you to experiment with OEM bundled basics. A simple sign-up will get you Microsoft's SkyDrive suite of apps and storage – the silver lining to its cloud services. However, these operating systems have been around a while and are very familiar on many levels.