Now that the elusive Higgs boson has, for all intents and purposes, been goosed into existence, the scientific world is popping champagne corks, lifting pints, and otherwise celebrating CERN's apparent success.
Well, almost all of the scientific world. Deep in the heart of Texas, a small group of dispirited particle physicists are not hoisting celebratory suds – they're crying in their beers, lamenting the particle that got away.
The Higgs boson was supposed to be theirs, but congressional budget hawks snatched it away when they canceled the US Superconducting Super Collider project in 1993, despite the fact that construction was already well underway.
"Our feelings as American physicists about this great discovery at CERN have to be a little bittersweet," University of Texas theoretical physicist Steven Weinberg told Austin's KUT radio. "This is a discovery that could have been and should have been made in America."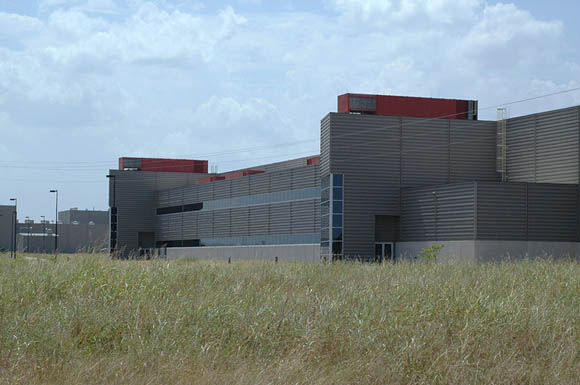 The grass grows high around the abandoned buildings of the Superconducting Super Collider
The SSC was planned to include a 54-mile accelerator ring encircling the tidy town of Waxahachie – the "Crape Myrtle Capital of Texas" – that would have been able to generate three times the energy of which CERN is currently capable. Construction began in 1991, but after $2 billion and 15 miles of tunnel digging, the US Congress changed its mind and shut the project down.
Weinberg recalls a debate he had with a US Congressman on the Larry King show back in the day. "And he said he wasn't against science, he just thought we ought to set priorities," Weinberg reminisces. "And I said 'well that's fine, I agree with that. The super collider would help us learn the laws of nature. Doesn't that deserve a high priority?' And he said 'no'."
And that was that. Not only did the US miss its chance to be first to the Higgs, more importantly the world missed its chance to not only achieve the milestone that CERN has just achieved quite a bit earlier, but also to reap the scientific benefits of an instrument three times more powerful than today's best.
To be fair, in 1987 the SSC was projected to cost around $4.4bn, but by the time the Congressional axe fell, that price tag had ballooned to $12bn – and who knows exactly what the final figure might have been.
Today, the SSC site remains, abandoned and empty on the Texas plains south of Dallas–Fort Worth. This January a Waxahachie chemical company, Magnablend, bought the site, and plans to use the buildings that have sat there unoccupied for 20 years.
Those 15 miles of tunnels, however, will remain unused, an underground monument to America's fading commitment to pure science. ®