When YouView was conceived at the BBC in 2007 as "the iPlayer in hardware" it caused huge convulsions across the TV industry. Sky and Virgin grumbled about anticompetitive practices.
Now, several years later, we can see that YouView is exactly what was promised: it's the iPlayer in a box. But the idea that it's revolutionary, let alone anticompetitive, seems completely ludicrous today.
The world has moved on since 2007, we now have iPads and live TV spectaculars are followed on Twitter.
Both YouView and Google TV look like technologies in search of a problem to fix. They add a modicum of convenience to the "free" viewing experience and make you pay for it. Their features can be found on more sophisticated cable and satellite boxes (such as the Sky+ and V+) and digital video recorders (DVRs). Instead of plain old Freeview, you get Freeview with an internet backchannel to call up programmes on demand and a nice sit-back user interface.
The first YouView box, the gigantic Humax DTR-T1000, was revealed yesterday and has TiVO-like DVR functionality to pause and rewind live TV with 500GB of internal storage. All this comes at a price: £300 for the machine. It may be subsidised heavily, as some reports suggest, with BT and TalkTalk bundling a YouView box with broadband access for a few quid extra a month, but even then that's a sell.
The question everyone is asking today remains a live one - will you want to pay extra for it?
And the answer to that will depend upon what's on the box rather than what's inside the box - in other words: "What's on TV - this 'ere YouView TV?"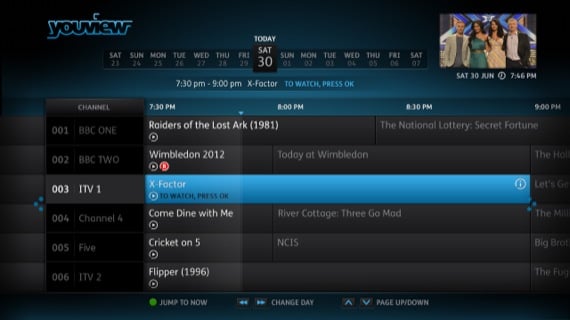 The YouView UI
The first thing you'll see on the YouView box of the future will most likely be a contemporary British drama featuring Gina McKee (now greying slightly), with beautifully stylised cinematography (they choose their filters with loving care) aping a US drama made several years previously (today it's The Wire, in a few years they'll get round to Breaking Bad). Or we'll turn to Channel 4, for its edgy reality documentary Push The Roma Down The Well. Or perhaps Nick Berry will have be persuaded to cycle around the village on his bobby's bicycle once again.
In other words, YouView's EPG will remind you that this is a venture jointly owned by very conservative British terrestrial broadcast dinosaurs who want to stop you wandering too far outside the pen. A platform for old heads to rest, rather than a platform as a bouncy springboard to somewhere new.
That may be unfair. Remember YouView is a platform, not a closed box, and has a lot of potential. Sky said yesterday that it's bringing its pay-per-view movies (called Now TV) and possibly sports to YouView, for which you'll have to pay extra. ISP partners will bundler their own content uniquely for their own subscribers - but these are BT and TalkTalk. TalkTalk has repeatedly said it doesn't want to be in the content business and BT's implementation of IPTV is decidedly spotty - no other service receives more complaints at Ofcom. Will they bundle Sky, too?
YouView set out to bring internet-like features to television, saving the punter the trouble of subscribing to cable or satellite. But to succeed it may well looking being another Pay TV service.
The lesson of the past few years is that technology only "disrupts" briefly and temporarily. TV kit doesn't really sell on features, unless those features make the programmes nicer to watch.
Content remains king - it was ever thus. ®
Similar topics