This article is more than 1 year old
Microsoft lobs licensing liposuction at Server 2012
Slims down to four builds, sheds Home and Small Business Server
Microsoft has unveiled licensing terms for its upcoming Windows Server 2012, slimming down to four versions and ending the Home and Small Business Server options.
"Windows Server 2012 delivers a dramatically simplified licensing experience," says Redmond. "Shaped by feedback from customers and partners, the new Windows Server licensing approach will help make choosing the right Windows Server easier while delivering the following benefits."
Those benefits will come in four flavors: Datacenter, Standard, Essentials, and Foundation, all with similar levels of functionality but with differing support for virtualized and cloud environments. Microsoft is also switching to a per-processor pricing model, with one license covering two processors and more options based on the number of virtual machines being run.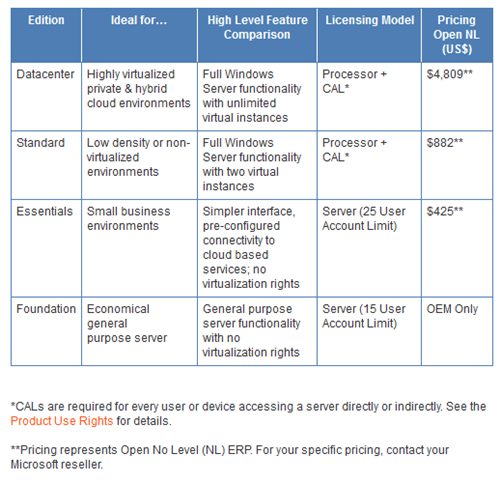 Redmond suggests that less is more in server builds
The popular Small Business Server and Home Server editions are being folded into the Essentials build (Foundation is for OEMs only), and the current high performance computing edition is being replaced with the Enterprise and Standard builds and supported with a free HPC Pack 2012.
No final release date has been given for the new operating system, but it is widely expected to launch concurrently with Windows 8 client edition before the end of the year. ®