Perceptive Pixel buy to make Microsoft more touchy-feely
As with Yammer, Redmond is buying friends
---
WPC 2012 At the end of the opening keynote at its Worldwide Partners Conference in Toronto Microsoft announced yet another purchase: touchable display creator Perceptive Pixel.
Perceptive Pixel is looking to improve on the analogue whiteboard with 27-, 55-, and 82-inch LCD displays that allow the user to manipulate images by touch, annotate them with a stylus, and collaborate in real time with others. The deal will see Redmond selling the display screens as a collaboration tool for use with Office.
"It's going to be the hottest tech item this Christmas, I tell ya," said Kurt DelBene, president of Microsft's Office Division. "Steve's got one on the wall in his office and he's using it all the time. He's the biggest fan of the thing."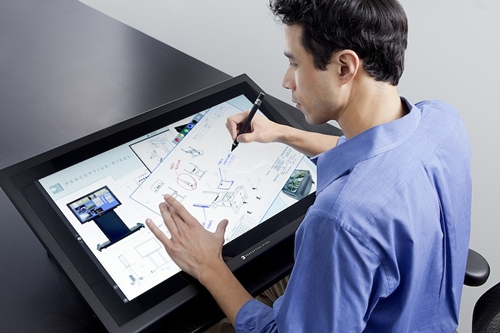 Ballmer's all about the touch screen
During the keynote, DelBene also spent several minutes bigging up the recent Yammer acquisition, saying it gives users a quick and easy way to set up private networks with just an email address. It's clear that Microsoft is taking social a little more seriously than in the past.
Microsoft recognizes it's getting into the business social networking space a little late, so it's taking the time-honored tradition of buying the competition to get a foothold. Yammer is key to its ambitions, and now the Perceptive Pixel buy will add another collaborative working string to Redmond's bow, as well as allowing it to push the hardware at a suitable markup to managers that want to be on the bleeding edge.
No timetable was given for the Perceptive Pixel integration, but it's reasonable to assume that the forthcoming Office 15 will either be able to support the displays at launch, or it'll be added into the code shortly afterwards. ®