Apple has released the System Requirements for its upcoming new version of OS X, Mountain Lion, and as is usually the case with any operating system release, not all Macs need apply – even some that qualified for the Mac's current operating system, Lion.
The basic System Requirements are rather straightforward, although as 512 Pixels notes, Apple provides a bit more detail than it has in the past:
OS X version 10.6.8 (Leopard) or later
2GB of memory
8GB of available disk space
Apple also notes – as if it weren't screamingly obvious – that some Mountain Lion features will require you to be hooked up to an ISP, and that others will require an Apple ID.
The list of supported Macs is a bit more interesting, seeing as how Apple now provides information on specific Macs, as opposed to its published tech specs for OS X 10.7, aka Lion. Here are the Macs that qualify for Mountain Lion:
For Lion, Apple merely said that you Mac had to have an Intel Core 2 Duo, Core i3, Core i5, Core i7, or Xeon processor, 2GB of memory, and 7GB of available disk space, then left it up to you to determine whether or not your Mac qualified.
If you dig through the specs of the Macs that will be allowed into the Mountain Lion pack, you'll notice that Core 2 Duo–equipped iMacs, MacBooks, MacBooks Pros, MacBooks Airs, and Mac minis still make the cut – but just some of them. If, for example, you have a Core 2 Duo–equipped Mac mini released in mid-2007 or a similarly equipped late-2006 iMac, you appear to be S.O.L.
As Omar Khayyam might have put it, "The moving operating system middle finger writes; and, having writ, moves on."
If you're thinking of upgrading to Mountain Lion, but you're not sure exactly what vintage your Mac model is, choose About This Mac in the Apple menu, click on the More Info button, and you'll be presented with a dialog that will tell you your Mac's name and release version: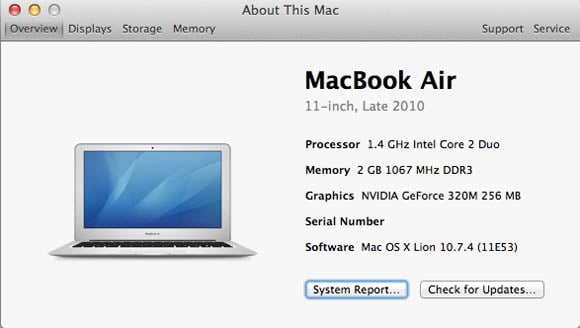 One of your Reg reporter's three Macs is ready for its Mountain Lion upgrade
Knowing that in the past Apple has timed its operating system releases to coincide roughly with its quarterly financial reports, we've assumed that Mountain Lion would be part of Apple's July 24 Q3 FY12 earnings-release party. This Monday, however, Apple released to developers the Golden Master of what will be OS X version 10.8, so there's a chance the big cat may pounce a wee bit earlier than that.
Whether or not Mountain Lion's release date matters to you, of course, depends upon whether it meets Apple's requirements. If not, worry not – the version of OS X that you're using today will not suddenly cease to function on the day Mountain Lion is uncaged. ®