Quantum just can't seal the deals, slides deeper into red
Hard drive biz hits another bad block
---
Storage purveyor Quantum has blamed a weak Europe, and a failure to close large deals, for an estimated $19m loss in its quarter ended June 30.
In a warning to Wall Street about the bad news, Quantum said it expects to bank revenues of $141m in Q1 of fiscal 2013, the lowest the company has taken for more than two years, and make a GAAP net loss of 7 to 8 cents a share. We calculate this to mean a loss of between $16.6m and $18.96m from revenues down 13.4 per cent on the last quarter.
The firm, which makes tape, disk and software data protection products, had a lousy time in the three months before Q1, during which it notched up revenues of $160.3m and a loss of $11m. Before that it bagged a $4m profit on revenues of $173.5m. Since then things have started going to hell in a hand basket, as this graph shows.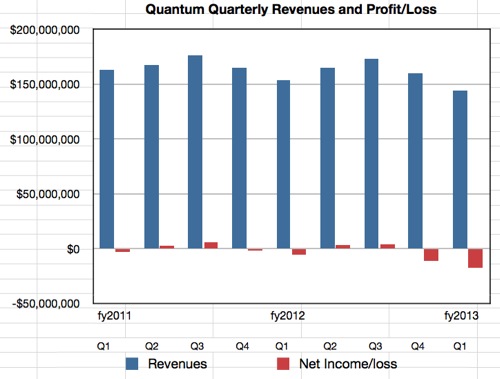 Quantum's quarterly revenues and profit/loss
CEO Jon Gacek admitted "shortfalls in Europe and big deals" caused the poor performance. He had also blamed the Eurozone crisis in the previous quarter, as well as lousy Asian markets, and recruited new EMEA sales head Xavier Guerin.
The inability to secure big contracts led to the replacement of a previous sales boss in July last year.
Gacek was not particularly optimistic in his statement on the poor results: "Despite this, as we begin our second fiscal quarter we have not changed our goal of driving total revenue growth for the full fiscal year and are focused on what we can control - namely meeting the data protection and big data management needs of our customers.
"At the same time, we will continue to monitor global events and their potential impact on our revenue opportunities moving forward and adjust spending levels if conditions warrant it."
Full results will be reported on 31 July. ®