This article is more than 1 year old
Google Nexus 7 Android tablet
Stonkingly good seven incher
Review Amazon may have done more that most to get Android onto tablets, but Google's Nexus 7 tablet, built by Asus, isn't so much a shot across the bows as a full torpedo attack on Jeff Bezos' ambitions in the fondleslab market.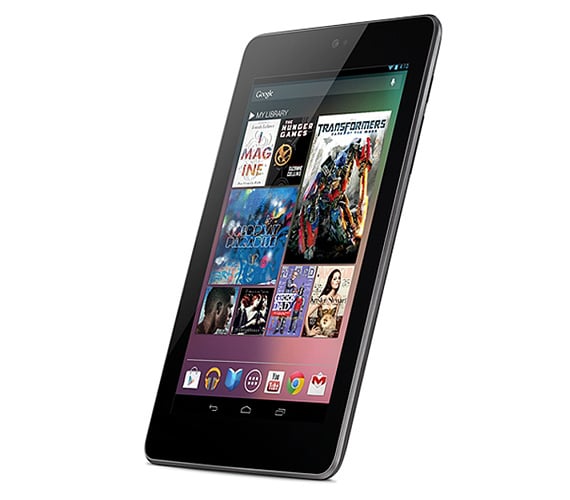 Amazon attack: Google's Nexus 7, built by Asus
At £159 ($199) for the 8GB unit and £199 ($249) for the 16GB, the Nexus is priced to compete directly with Amazon's Fire, and it's a generation ahead in hardware specifications. The Nexus is powered by a quad-core Nvidia Tegra 3 processor, a 12-core GPU and carries a 1GB of RAM. The 1280 x 800 display has 216 ppi, which isn't up to the standards of the latest Apple iPad but puts a lot of the direct competition to shame.
Inside, there's a full set of goodies, including Bluetooth, accelerometer, gyroscope, GPS and digital compass, with near field communications hardware that allows touch data transfer over Android Beam. All this is packed into a 198.5 x 120 x 10.45mm shell that weighs 340g and is easy to use one-handed on the commute and works for thumb typing in portrait or landscape mode.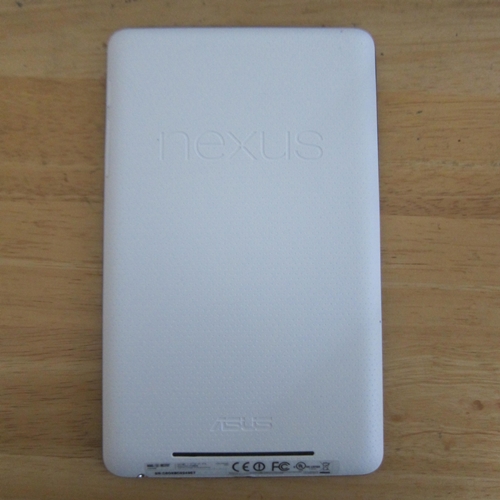 The white rear panel will be replaced by a grey retail version
The Nexus feels solid and well put-together, with a front fascia that's button-free. The review sample features a dimpled white polycarbonate rear shell which looks like it could pick up fingerprint dirt, but the retail device will have a dark grey exterior. There's a single 1.2MP camera that's forward-facing for videoconferencing.
In terms of connectors, the hardware enthusiast will be disappointed. Evidently, Google envisages the Nexus 7 primarily as a streaming device, as there's no SD port or HDMI output. It's charged using the micro USB port and all updates are being delivered automatically using Wi-Fi rather than needing a computer hook-up. Also, the USB link works with both PC and Mac – the Nexus 7 can be used as a mass storage device to transfer media between platforms.

Evidence of some connectivity for a dock or charging crade on the edge
Google claims the 4325mAh battery is good for 9hrs of HD video and 300hrs of standby. In a factory setting test, using the copy of Transformers 3 included with the device, the Nexus 7 managed 7hrs 30mins of video playback at full volume, with a couple of reboots when the player borked. Meanwhile 100hrs of standby cut a full charge to 68 per cent, which makes the official figures appear credible. However, the Nexus is not quick to recharge, taking just over 3hrs to fill up from flat.