This article is more than 1 year old
Google Nexus 7 Android tablet
Stonkingly good seven incher
Jelly Bean ingredients
The only buttons on the shell are for power plus a volume rocker. A 25W strip speaker is built the bottom of the back shell that provides enough volume to be really annoying on public transport – although there's also a headphone jack in the bottom right corner of the tablet.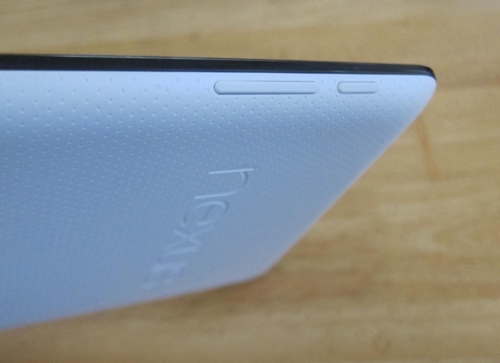 A minimalist approach to hardware controls
In an unofficial drop test performed by my cat jumping on the table, the Nexus survived 32cm fall onto a wooden floor. It suffered little damage beyond the casing popping open slightly on one corner, which clicked back together easily. The front of the device is equipped with Corning scratch-resistant glass and it's good at not picking up smudging.
The Nexus 7 is going to be the only tablet running Android 4.1, aka Jelly Bean, in the near future, which is both a blessing as a curse. The new operating system is noticeably quicker than its predecessors, with much smoother graphics and less jerkiness. Yet it's also dependent on Google finding enough developers to tweak apps for the new build, at a time when most Android devices haven't even made it to the Ice Cream Sandwich 4.0 build. Incidentally, Jelly Bean wouldn't allow AnTuTu to instal, reporting that it was incompatible, so no benchmarks here, alas.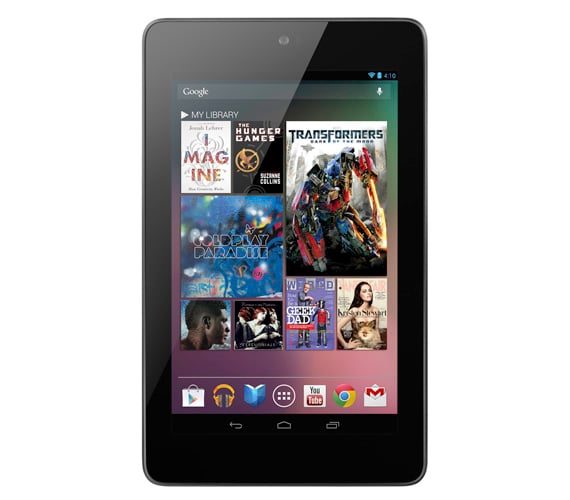 Portrait-only for the home screen
Curiously, Google has made the Nexus home screen portrait mode only, with the landscape setting reserved for applications. There are seven application start buttons along the base of the screen, along with the three navigation buttons for the back function, go to homepage and view currently running apps.
The notifications bar – traditionally a strength with Android – has been beefed up further, so that it looks more like a social networking news feed. Tapping results can open menus within the notification, add in news sources and offer some sample replies to messages. There's the usual mapping and navigation function, with free downloadable street and transport maps.