Maybe Yahoo! should have held onto Zimbra instead of selling it off to VMware two and a half years ago. But for the sake of users of the email and collaboration tool that Yahoo paid a stunning $350m to acquire in September 2007, it is probably best that Zimbra ended up inside VMware, which is playing for keeps on the desktop as well as in the data center these days.
VMware wants one more thing to sell to service providers and enterprise customers, and it also has money to invest in enhancing Zimbra with social media-like capabilities, something that Yahoo! probably would not have gotten around to yet and that VMware has done with Zimbra 8.0, which is launched as a beta today and which will start shipping in the third quarter.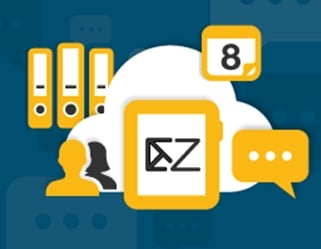 Technically, it is called Zimbra Collaboration Server and it comes in an open source flavor and a commercial network edition that can be deployed internally behind the firewall or by service providers that want to offer email and collaboration as a service.
Either way, says John Robb, senior director of research and development for collaboration products at VMware, the software has the same SaaS-ish feel, with the same user self-service portal and system administration consoles for both companies or professional hosters.
VMware has over 85 million paid mailboxes running on Zimbra and 250,000 customers worldwide, which is up significantly from the 150,000 customers and 60 million mailboxes under management in August 2010 when VMware packaged up Zimbra as a software appliance for its ESXi server hypervisor. Robb tells El Reg that 15 million of those mailbox seats were added in the past year, which implies that the rate is accelerating at a pretty good clip since VMware took over.
Two years ago, a single service provider accounted for 30 million of the 60 million seats, and everyone guessed it was Yahoo! VMware is way out in front with service providers, with about 40 per cent of its business coming from them.
About 5 to 10 per cent of the entire collabware market has moved to the cloud, says Robb, so there is still lots of opportunity to catch users as they jump from home-managed email to cloudy mail managed by service providers.
"The leading players in email and collaboration used to be Microsoft, IBM, and Novell," says Robb. "Now, people want to be able to move to the cloud, even if they choose not to, and they are evaluating Microsoft, Google, and VMware."
And with the Mozilla Thunderbird more or less dead, Robb says that "Outlook is next" as end users move away from PC clients for collaboration and toward browser-centric computing that is cloud friendly while also not being data center hostile. It's all part of what VMware and rival Citrix Systems call the "post-PC era."
The main change that comes with Zimbra 8.0 is out-of-the-box integration with VoIP telephone systems from Cisco Systems and Mitel, allowing Click2Call as well as access to voicemail (through a visual interface), chat, and presence (ratting out where you are physically) from within the Zimbra Ajax-based client.
In the case of Cisco, the Zimbra client is also now integrated with WebEx so you can schedule and launch meetings from inside the client. VMware is also releasing specs on a set of APIs that will allow for VoIP systems from Siemens, Avaya, and others to be integrated with the client. VMware has not said it will do this work.
Zimbra 8.0 also includes a feature-complete virtual software appliance that is not limited in size to the number of mailboxes it can host and that also now includes scaling, multi-tenancy, and command line access features previously only available in the bare-metal version.
The appliance variant of the ZCS server also did not include the Zimbra MAPI integration, which let the Zimbra server fake out Outlook and other email clients into thinking it was Exchange Server. This feature is now in the appliance as well, but as you might expect, VMware wants you to use its own Zimbra Desktop client or, better still, the Zimbra WebClient.
When VMware bought Zimbra, only about 10 per cent of customers had virtualized their collaboration servers, but two and a half years later, Robb says that it is well north of 50 per cent of customers (based on anecdotal information since Zimbra doesn't have call home functions back to VMware HQ showing how customers are deploying it) and could be as high as 75 per cent.
The appliance is bundled on top of Novell's SUSE Linux Enterprise Server 11 operating system and can be installed atop VMware's ESXi 4.X or 5.1 hypervisors. You can, of course, run Zimbra Collaboration Server on bare metal if you want, and a lot of people certainly must be doing that with over 50,000 registered users of the Community Edition.
The new Zimbra has also been integrated into VMware's Horizon 1.5 application manager end user portal, and can be deployed in a high availability cluster in virtual form using vSphere High Availability (HA) and Site Recovery Manager (SRM) features in one click, according to Robb.
With Zimbra 9.0, presumably the cluster will be able to set itself up, and with Zimbra 10.0, it will uninstall Exchange Server or Domino and upgrade you automagically.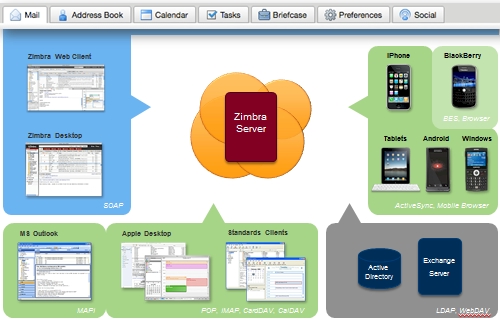 VMware Zimbra: at the center of your collaboration
The Zimbra 8.0 client now has social disease media styling for message boxes and calendars. In essence, El Reg reckons that everything used to have to look like Outlook, and now everything has to be dumbed down to a Facebook interface.
The new Zimbra also has a very interesting litigation hold feature that will no doubt be popular, which allows for emails to be held from being deleted without having to fork a mailbox and add infrastructure to run it. Zimbra 8.0 can also provision its accounts automatically from Windows Active Directory or other LDAP authentication servers, and end users can manage their distribution lists and search and recover deleted items from mail, calendar, contacts, and tasks from inside of the client.
Zimbra Collaboration Server 8.0 Network Edition costs $45 per user if you want a perpetual license, and then you have to pay an additional software support fee each year after that. Or you can buy it on an annual subscription basis that costs $25 per user per year; this includes the license as well as support. Volume discounts most definitely apply. ®
Similar topics