Microsoft promises resellers bumper 2013 with total line-up refresh
$12bn up for grabs by April 2014
WPC 2012 Microsoft closed down its Worldwide Partners Conference in Toronto with a promise that the coming year will provide the best year yet for its resellers, with a complete refresh of its ecosystem to restore Redmond's future.
"For the very first time, every single product in our portfolio is getting refreshed and relaunched in a 12 month cycle - that's unprecedented," said COO Kevin Turner. "It's the largest release cycle in our history and the energy and the momentum from that is unbelievable."
Microsoft as investing in improved partner rebates and rewards he said, as well as increasing the amount of training on offer, particularly for cloud technology.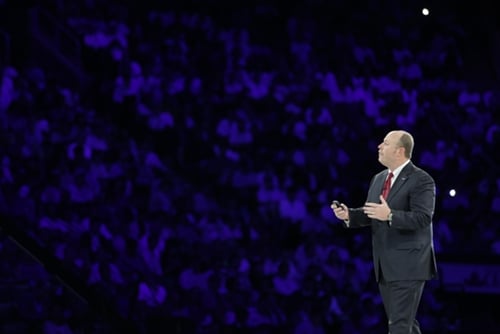 Turner tells resellers to think big and cloudy
Redmond's also spending $9.3bn in R&D, over $3bn more than its nearest technology rival, Turner claimed. This investment started in the recession year of 2008 and the result was a whole new lineup that was going to provide Microsoft's most important year since 1995.
Resellers have a $12bn market opportunity between now and April 8, 2014, Turner said. On that date, the 15th birthday of Windows XP, Microsoft will be holding a massive party and then "putting the operating system to sleep, rest in peace," he said. There will be no more security updates and resellers needed to spend all the time between now and then upgrading to Windows 7 rather than waiting for 8, he urged.
That said, Windows 8 will be the single biggest launch in the company's history, he promised, and it would give Microsoft a consistent user interface from the smartphone to the tablet and the desktop and the television with Metro. This creates a multi-billion opportunity for the reseller community, particularly when added to the cloud tools in Server 2012 and Azure, he claimed.
Cloud revenues grew by over 100 per cent on all Microsoft's online offerings and geographies, Turner reported, and while Redmond has public and private cloud products it is the hybrid model that Microsoft sees as the main market. Turner said he wanted 50,000 new cloud partners and urged the crowd to get on the train and make some money.
Office 365 will be Microsoft's biggest grower next year, outpacing SharePoint, and Turner spent time warning that Google was pitching for Redmond's customers for cloud apps, and provided tips for resellers to use to fight the Chocolate Factory. Winning with Office 365 was crucial to the future of both Microsoft and its resellers, he claimed, saying Office 365 had to win every single time.
Turner carried on with the VMware bashing that took place on Tuesday, saying Microsoft's virtualization portfolio was growing at twice the rate of VMware and pointing to July figures from IDC recording Maritz's crew had lost market share last quarter. He also flashed up comparison slides claiming that Microsoft could provide virtualization at a third of the price of its chief rival. VMware has declined to comment on the matter.
But VMware isn't the only company coming in for stick. On the database side, Microsoft was now leading the SQL market, Turner claimed, and resellers should use it to "rescue people from Oracle and IBM and others." Microsoft's forthcoming Hadoop product would provide another avenue for competition against Oracle and others, he said.
Apple too caught his ire. Turner rehashed the strange case of Apple's Siri service recommending a Nokia Phone 7 as the best smartphone, a response Cupertino appears to have "fixed." The Mountain Lion operating system, due out later this year, will be a hodge-podge of code that users wouldn't like, he predicted, and this made them vulnerable to attacks from Windows 8 and the Surface platform.
"I warn and remind everybody that while history may repeat itself, opportunities don't," Turner concluded. "The opportunity we have this year right now is to seize the moment, seize the day." ®