This article is more than 1 year old
AMD slips modest speed bump into 'Abu Dhabi' Opterons
But just what's inside those 'Piledriver' cores?
Abu Dhabi, the Middle Eastern country that created the investment vehicle that bought the foundry business from AMD, is likely a bigger deal to the future of the chip maker than the forthcoming "Abu Dhabi" Opteron processors, especially if you look at those CPUs' clock speeds.
Not that AMD made any promises of big clock-speed jumps with the current Opteron roadmap or its predecessor, which had the company shifting to a new set of server sockets with even fatter CPUs than the current C32 and G34 sockets get stuffed with.
The original plan, announced back in November 2010, was for a ten-core "Sepang" chip for single- and dual-socket servers in a kicker to the C32 socket, and a 20-core monster (really two ten-core chips in a multi-chip module) called "Terramar" going into a fatter G2012 sockets for two-socket and four-socket machines.
Well, if you want to get technical about it, those are really four CPU and eight CPU machines, at least from the point of view of the HyperTransport interconnect between processors. But we digress – often, and usually with enthusiasm.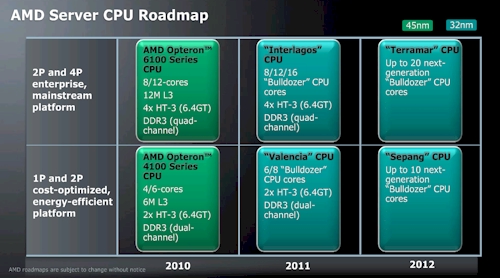 AMD's Opteron server chip roadmap from late 2010
The Sepang and Terramar chips were to be baked in a 32-nanometer process, just like the current "Valencia" Opteron 4200s and "Interlagos" Opteron 6200s, and were also to sport the current "Bulldozer" cores. The idea was to tweak the cores and to boost the number of cores by 25 per cent, perhaps yielding anywhere from 35 to 40 per cent more oomph based on El Reg's estimates.
But then the top management of AMD was shown the door late last year, and a new tech team was brought in. What AMD then in essence decided to do was push any new potential sockets out into the future and double down on the existing C32 and G34 sockets. Without a process shrink or a bigger socket, the core count can't go up, and so the "Abu Dhabi" Opterons for G34 sockets and "Seoul" Opterons for C32 sockets will have the same core counts but sport an improved "Piledriver" core.
As you can see, AMD has also subsequently reawakened to the entry server and micro server market, and will push variants of the Seoul chip called "Delhi" for single-socket boxes.
Obviously, with Intel out there making so much noise about its "Sandy Bridge" E5-2400, E5-2600, and E5-4600 processors for two-way and four-way machines, and its "Ivy Bridge" Xeon E3-1200 v2 chips for singlers, the heat is on AMD to do something to boost performance as well as bang for the buck with its forthcoming round of Opteron chips due in the second half of this year.
In early June, AMD did a deep bin sort on the current Opterons and rolled out some slightly faster variants with a very modest 100MHz speed bump. That's the last hurrah from AMD until the Opteron 3300, 4300, and 6300 chips – if that is indeed what this year's models will be called.
So what can we expect from the future Opterons in terms of clock speeds? Well, Facebook's Open Compute project, which has open sourced the design specs for motherboards, servers, storage, and data centers, provides a little guidance in some documentation relating to May's launch of the AMD Opteron "Roadrunner" system:
Magny-Cours (6100 Series) uses the Greyhound core while Interlagos (6200 Series) uses the Bulldozer core. Abu-Dhabi is based on the Piledriver core will be available Q2 2012 and offers drop-in compatible part with 200 MHz performance uplift.

The Open Platform board should be designed to accommodate all three G34 power bands – 85W, 115W, and 140 Interlagos and Abu Dhabi parts. The SE Abu Dhabi will consume up to 125A on the core and 25A on the north bridge.
First of all, that's Open Compute's typo, not ours, and as far as we know, at least for servers, Piledriver cores are not coming out until later this year.
What is not clear is if Open Compute was thinking of the then-current Opteron 6282 Special Edition, which spun at 2.6GHz in a 140 watt thermal design envelope, or the then-impending Opteron 6284 SE, which runs at 2.7GHz. Assuming the best-case scenario – that Open Compute knew about the 2.7GHz part – then AMD can deliver a 2.9GHz Opteron 6300 SE part at 140 watts with 16 cores and can deliver a standard 115 watt Opteron 6300 part running at 2.6GHz with 16 cores. For Opteron 4300s, that should mean 3.6GHz parts with eight cores at 95 watts and maybe 3.1GHz for Opteron 4300 HE (Highly Efficient) low voltage parts with six cores in the same 65-watt power envelope.
That's not much of a speed bump, mind you, which is why AMD wants to go for more cores. But that would force new sockets and there is no way in hell that AMD's server partners would pay to re-engineer their servers this year.
Which brings us to the next point: what AMD really needs to do is get on par with Intel in process technology. If anyone needs a process shrink right now, it's AMD. But for now with the Piledriver cores, AMD is focusing on squeezing more instructions per cycle through the processor and a modest clock bump.
That clock speed bump looks to be coming in part from a shift to resonant clock mesh technology from Cyclos Semiconductor, which has been added to the Piledriver cores. The Bulldozer cores were designed to go to 3.5GHz and higher (in desktop machines, not servers), and the Piledriver cores using resonant clock mesh have been able to push up to 4GHz and higher.
AMD has not said much about this, but Cyclos says that AMD has implemented its clocking technology in both Opteron chips for servers and "Trinity" Fusion APUs for desktop and notebook machines using its 32-nanometer process – or rather, those of AMD fab partner GlobalFoundries.
It will be interesting to see what AMD has in store for the future "Steamroller" Opterons, for which it promises only "greater parallelism", and the "Excavator" Opterons, for which it promises "greater performance".
This roadmap needs some fleshing out with PCI-Express 3.0 peripheral support, fatter memory controllers, and a whole bunch of other things. ®