This article is more than 1 year old
Pure Contour 200i Air wireless music system
There's more to this than just AirPlay
Review Sometimes, the only way to appreciate what a new technology or product can do for you is to actually try it. So when Pure dropped by the office and left a Contour 200i Air – its latest AirPlay savvy wireless music system – I felt dutybound to use it.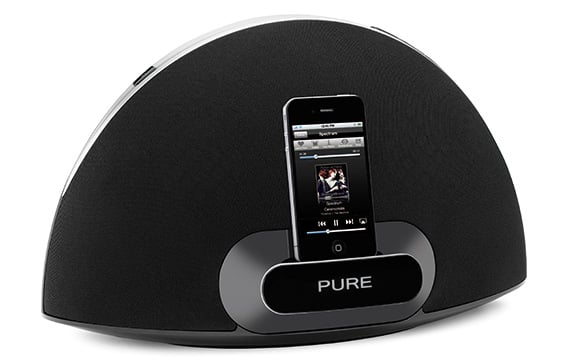 Pure Contour 200i Air AirPlay wireless music system
Now, I'm no stranger to wireless music players. I tested a Sonos ZonePlayer bundle back in 2005 and was wowed by the multiroom playback functions, as well as the iPod style colour LCD CR100 remote control showing all the artwork. The speakers weren't bad either – shame I had to give it back.
Years later, I succumbed to the temptation of AirTunes using an Apple AirPort Express but found it was easier to reach for a CD than wait for my Mac to boot up. Likewise, it was a similar experience playing audio from a Netgear Nas box – I needed Twonky media server to run for my Pure Evoke Flow to turn on, tune in and er, drop out occasionally. As for Bluetooth speakers, its limited range and power consumption impact on portable devices meant it remained disabled most of the time.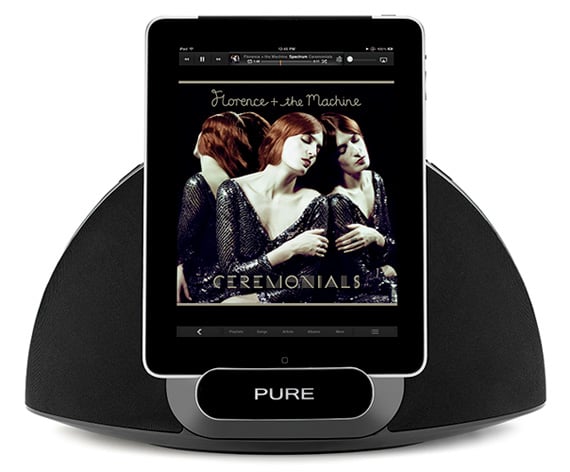 Direct playback from the dock if need be, but a handy charger too
And now, with my home graced with a Pure's Contour 200i Air, I'm wondering what this rendition of Apple's AirPlay can deliver that had me leave the alternatives by the wayside? In fact, I didn't even need to get the device home for an answer to that. The office demo revealed all. Just one word: simplicity.
Don't be fooled, the Contour 200i Air is not a one trick pony for iOS-only devices, although it does feature a rather splendid companion app that I'll come to later. It can work with other networked devices that run iTunes and there's an analogue Aux input too, if you really run out of options. Although it can be controlled directly from an AirPlay connected host, it also includes and chunky credit card remote which is very handy when your iOS device is charging during playback.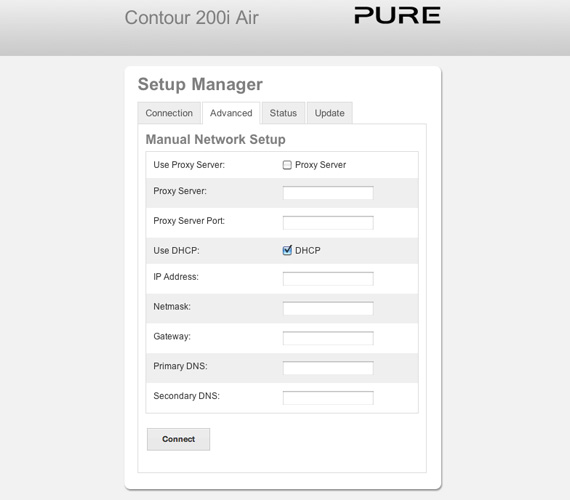 Ethernet proxy configurations are available when accessed from a browser
The device itself follows the styling of Pure's original Contour that featured a neat pop-out dock. However, the dock here is permanently protruding, and while not so swish, is no doubt a practical consideration providing the strength to accommodate an iPad as well as other iOS variants.