This article is more than 1 year old
Pure Contour 200i Air wireless music system
There's more to this than just AirPlay
Status symbol
Dock aside, there's little else out front apart from an LED status indicator hidden behind the fabric adorning its crescent shape – if you forget what the flashes and colours mean, there's a guide on the base. Along the outer edge are controls for power/standby, with volume and mute on the other side. The unit houses two full-range 3.5in drivers with twin downward firing bass ports. The total output is rated at 36W RMS which is plenty loud and, apart from testing, I never needed to drive it too hard to get a satisfactory volume level from it.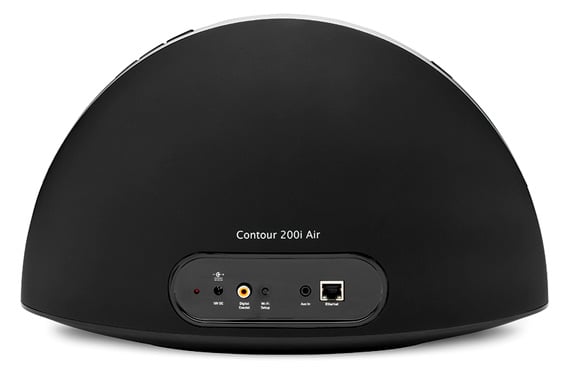 Not much here, but the Wi-Fi sharing button makes light work of configuration
The back panel has a bit more going for it: the Ethernet port not only provides a more robust connection to a Wi-Fi router, but delivers alternative access and is also used to dial into the Pure Contour 200i Air for software upgrades. Other connectivity includes the 3.5mm stereo jack Aux input, a coaxial digital output and the 12V DC power socket. Also lurking is the pièce de résistance – a simple Wi-Fi set-up button.
I don't know about you, but I find typing in Wi-Fi base station passwords on a mobile device is one helluva faff when battling with both numerals and different character cases – lest we forget the ever-so-helpful and tirelessly vigilant autocorrect. It seems Pure is aware of this issue too and the Contour 200i Air neatly avoids you having to go through this process again to set it up for use.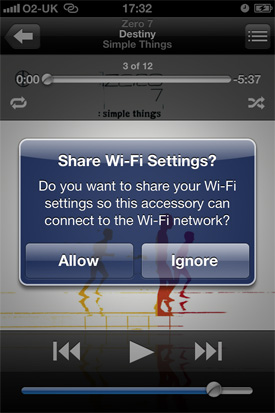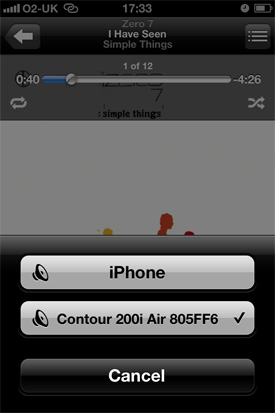 Wi-Fi sharing and AirPlay selection
If your iOS device is already working on your Wi-Fi network, then all you have to do is dock it to the Contour 200i Air and then press the set-up button at the back. A "Share Wi-Fi settings" dialogue box appears on the iOS device and you choose Allow (or Ignore). The password to your base station is extracted from your docked iPad, iPhone or iPod Touch and that's that. You can undock and stream the content over AirPlay.
Now the Contour 200i Air has your network password, all other iOS devices connected to the host wireless base station can access the speakers for AirPlay use too. Also, any computer with iTunes can do likewise. And if you need to relocate the Contour 200i Air, then you just do the same dock-and-share dialogue routine with a connected iOS device. And if you've not got one to hand, then the Wi-Fi button at the back can turn the Contour 200i Air into a base station, which is handy if you've no Wi-Fi router either. There's also the Ethernet option to get things talking with wired computers running iTunes.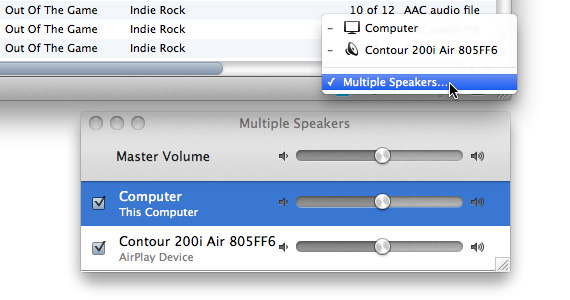 iTunes enables playback from both the computer and the Contour 200i Air
OK, so connections for playback can be established in a variety of ways and, if necessary, the innards can be tapped into for more sophisticated networking tweaks. The firmware updates automatically over Wi-Fi, but can also be performed manually over Ethernet. Music playback from an iOS device takes a few seconds, halting is pretty much instantaneous and wandering around the home with your iPhone streaming makes no breaks in connection so long as you remain in Wi-Fi range.