This article is more than 1 year old
Pure Contour 200i Air wireless music system
There's more to this than just AirPlay
Playing dumb?
Having always been somewhat disgruntled that DVD playback on the Mac didn't deliver the audio over AirTunes, I was pleased to see that movies played on the iPad played in sync from the Contour 200i Air. Now, I wonder if movies with a surround soundtrack could make it unfettered across AirPlay, then out of the Contour's digital interface and into an AV receiver and deliver multichannel audio... and in sync? Answers in the comments please.
On the surface, Pure's Contour 200i Air appears to be just a dumb AirPlay speaker and dock and indeed it would be if it wasn't for the ecosystem that lies behind Pure's own music services. The Lounge is Pure's on-line portal that originally provided the means for its Wi-Fi radio users to set-up content for their devices. Rather than squinting at a tiny LCD screen, The Lounge sorts out playlists and allows easy searching of internet radio stations and podcasts that can be set as Favourites and then easily accessed from the radio itself.
The Lounge has long since expanded beyond search and save though. Pure's Wi-Fi radios have tagging on-board – identifying tracks using Shazam's technology – with purchasing directly from the radio too. Purchased music can be played directly from the radio or downloaded as MP3 files from The Lounge. The tagging list also appears on The Lounge.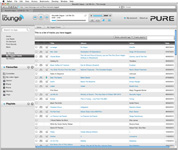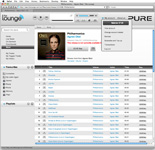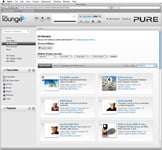 The Lounge: Listings of tagged songs from Pure radios, music purchase and Listen Again content search
Click for larger images
Now things get a bit more interesting. Although The Lounge registration is free – and you can buy songs à la carte – at the beginning of the year, Pure introduced its own all-you-can-eat subscription service. It's a £5 a month Spotify rival without the Facebook prerequisite, nor the ads – we compared the two in detail here. So now you can go through your tagged listing and instead of buying the track, you can choose to stream it. In fact, you can dig out the whole album for a listen.
So what's this got to do with AirPlay? In short, just about all of these features are available from the Pure Lounge app. This transforms the Contour 200i Air from being a humble wireless speaker for iTunes content, into music hub courtesy of your iOS device. Unlimited music streaming, purchased tracks, internet radio plus on-demand content and podcasts are all accessible from the app for playback – and it will work with any AirPlay device too.