This article is more than 1 year old
Pure Contour 200i Air wireless music system
There's more to this than just AirPlay
Conversation piece
In use, the app works fairly intuitively with some minor quirks. You can't tag songs playing from internet radio stations within the app. However, you can fire up Shazam, but that temporarily kills the AirPlay connection and the audio continues playing out of the iOS device's speaker and is tagged that way. Afterwards, the AirPlay connections is re-established. Still, that does mean the tag doesn't end up on your Pure Music listing.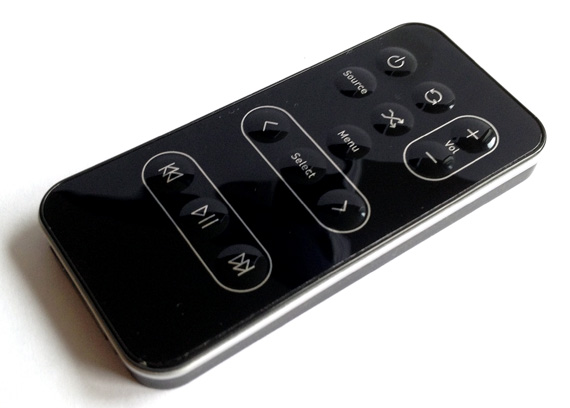 The remote is well made, responsive and delivers finer volume increments than control from iOS devices
If the iOS alarm clock goes off while streaming the radio, it drops the connection and doesn't resume. In fact, it froze on me and I had to quit the app. However, phone calls work fine, resuming after the conversation. Also, texts bleep locally from the iPhone and the AirPlay stream is unaffected. If I'm to be really picky, it would be good to have a full screen version of the app for iPad too. Apparently, it's in the works.
Incidentally, you can stream music whilst logged on to The Lounge from a web browser and your iOS device and play different music sources simultaneously. However, on the Pure Lounge app you can't notch up subscription artists as Favourites. You need to search for them each time. However, a workaround is to create playlists from The Lounge portal. Also, unlike podcasts, stopping a subscription track will take you back to the beginning when you resume.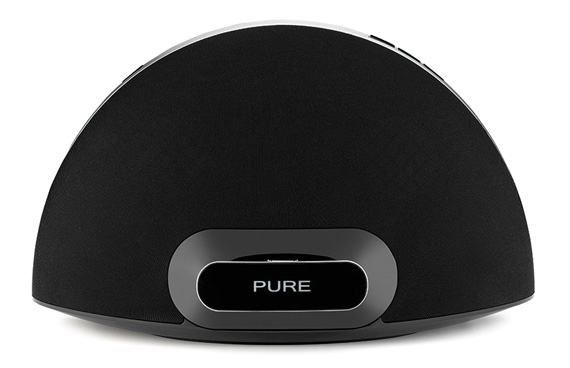 Simple to use, yet has a wealth of content sources available to it from the Pure Lounge app
My old iPhone 3G, now relegated to PMP duties can't utilise AirPlay, but it worked fine when docked. I tested the Aux input with a Creative Zen Touch 2 which was a bit disappointing in terms of volume. It was a reasonable output, but nothing like intense volume delivered over AirPlay or with a docked iOS device. No doubt an Aux line level/impedance matching issue – your mileage may vary.
Sonically, the Pure Contour 200i Air can belt it out, even driven hard it keeps distortion to a minimum and avoids becoming unpleasant. It seemed well suited to the sparse musings of Bill Evans and Jim Hall's Undercurrent and likewise Idil Biret's performance of Chopin's Nocturnes. Katy Perry's Teenage Dream was more demanding at high level – its bandwidth revealing the inherent resonance of the unit's drivers, but a robust performance all the same from this subscription stream.
Being accustomed to Tannoy floor standing speakers and a Yamaha AV amp, I rather missed lavish warmth in the bottom end. Yet given the size of the device, bass is not going to be overwhelming but it's not a thin sound and, overall, seems a fairly well balanced output.
Verdict
Taken as just a wireless music speaker, 200 quid seems like an awful lot of cash even though the audio output is loud and clear. Yet the clue is in the description: Pure's Contour 200i Air is a music system. It integrates the best of Pure's own music services on both its Lounge portal and Wi-Fi radios and makes it available to the iOS user to stream.
The Pure Lounge app takes AirPlay beyond being an iTunes mouthpiece and does some extremely clever things that listeners of all kinds will appreciate. If you're iOS user and already tagging on a Pure Wi-Fi radio, then the enhanced user experience makes the asking price of the Contour 200i Air a little easier to reconcile. ®
More AV Reviews

Bang & Olufsen
Beoplay A3
Teufel
iTeufel Air
Eight... AirPlay
speakers
Apple TV
2012
Bang & Olufsen
Beolit 12

Pure Contour 200i Air wireless music system
Simple to configure AirPlay music system with docking and aux options plus a very smart app that offers a wealth of content.