Early verdict on Intel Ultrabook™ push: FAIL
Analyst: MacBook Air handily outpaces svelte competitors
---
Intel's much-ballyhooed ultrabook effort is not working out quite as well as Chipzilla had hoped, with global sales of the thin and light laptops falling well behind expectations.
"The volume isn't there and it's going to be way below what Intel had hoped for," IDC analyst Jay Chou told CNET on Wednesday.
Intel's vision of the future of the laptop was unveiled by CEO Paul Otellini at an investors meeting in May 2011. At that event, he referred to the little fellow as being "not just a PC. It's about reinventing the PC."
This reinvented PC was christened the "ultrabook" the following month at Computex in Taiwan – or, more properly, Ultrabook™, seeing as how Intel had been granted a trademark on that moniker in late May.
At Computex, Intel's then–top salesman Sean Maloney – now head of Intel China – confidently predicted that ultrabooks would account for 40 per cent of laptop sales by the end of 2012. According to IDC's Chou, that ain't gonna happen.
"We might hit a million [ultrabooks] this year," Chou told CNET. Considering that IDC estimates that 225 million laptops will sell during the year, Maloney and Intel missed their mark by a factor of 90.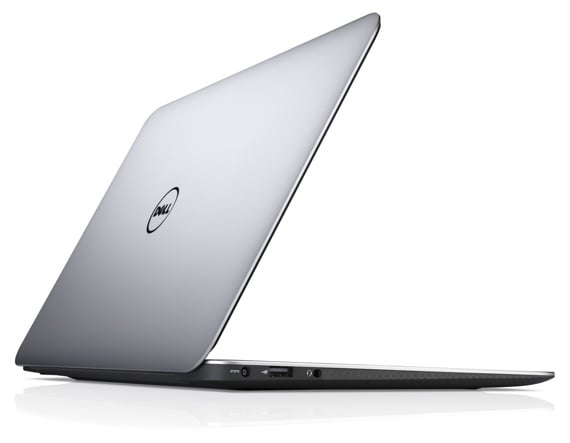 Dell's XPS 13. Like the MacBook Air: silver, svelte, and $999. Unlike the MacBook Air: not selling in the millions
That meager million-ultrabook march, remember, is for all ultrabooks from all manufacturers: Dell, HP, Toshiba, Samsung, Lenovo, Asus, LG, Acer. But there's one slim and light laptop that's been massively outselling all of its skinny brethren put together: Apple's MacBook Air.
During its 2011 fiscal year, Apple shipped 15.4 million laptops, up substantially from 11.2 million the previous year. Those numbers, of course, are for all of Apple's laptops, but the MacBook Air certainly holds its own in Apple's laptop line – and there's no reason to believe that Apple's laptops sales will trend downward during this fiscal year.
There's also no reason to believe that Windows-based ultrabook sales won't improve in 2013. For one thing, Windows 8 will be out, which Chou referred to as being "more lightweight and faster responding," and therefore better for laptop use.
Equally or perhaps more important, will be the 2013 release of Intel's next-generation Haswell microarchitecture, which Intel claims will have a 20X power-consumption improvement over today's mobile chippery, along with greatly improved graphics performance.
Although 2012 may end up being an ultrabook disappointment for Intel – not the least because they're shoveling $300m towards its success in the form of the Intel Capital Ultrabook Fund – it would be not only premature but also foolish to characterize the entire ultrabook effort as a failure.
Intel has plenty of time, plenty of money, and plenty of partners; all it needs are lower ultrabook price points, better and more-comprehensive feature integration, and a serious marketing effort – a little sex and sizzle wouldn't hurt, either.
Apple stumbling a bit might also help. But don't count on it. ®
Bootnote
Just in case you don't believe that the MacBook Air had an effect on Intel's marketeers when thinking up the ultrabook, here's the slide that Paul Otellini showed when introducing the ultrabook in May 2011:

And here's an earlier image of the MacBook Air taken from Apple's website:

Notice any similarities? We thought you might.