WD sees red, flogs NAS niche drives to SOHO punters
Colour-coded branding
Updated WD has spotted a NAS niche in the SOHO (small office/home office) market and introduced its Red drive specifically for such customers, simultaneously bringing colour-code branding to the fore, ahead of its Caviar and Scorpio brands.
The Red hard drives are 1, 2 and 3TB 3.5-inch drives with a 6Gbit/s SATA interface and they are designed to fit into 1- to 5-bay NAS systems. IDC says this market sector is one of the fastest-growing parts of the HDD market – notwithstanding some home users, professionals and SOHO users also being attracted to the cloud.
WD doesn't give away the actual spin-speed, merely saying it's Intellipower – meaning less than 7,200rpm – so we'd guess it's around 5,400rpm to 5,900rpm or thereabouts.
Previously users and suppliers building such systems – like Synology, Thecus and Dobo – could use desktop drives that don't have the reliability needed but are low-cost, or they could re-class enterprise drives, which do have the reliability required but are quite expensive, and are almost over-specced for the application.
The RE drives are now being positioned for multi-bay drive units with 6-8 bays for SME applications, 8-12 bays for enterprise use and more than 4 bays for surveillance applications.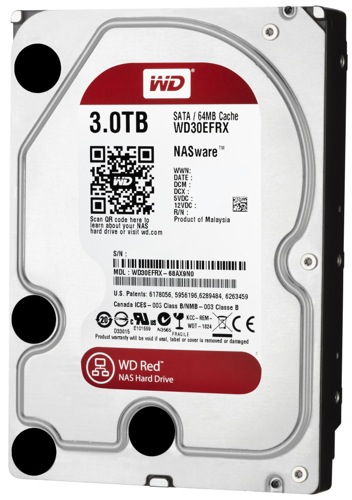 WD Red NAS drive label
WD has tweaked a 3.5-inch drive design to provide the reliability needed, while ensuring the kit is still more affordable than the RE. It's calling the tweaks "NASware technology" and these include 3D Active Balancing - enhanced dual-plane balance control technology for better balancing and vibration damping. WD says the drive runs at a lower temperature than competing products, which increases its long-term reliability. It's also tuned timing parameters so the drive is much less likely to drop out of a RAID group through being unresponsive.
The drive has DDR2 RAM used for its 64MB cache, which is faster than DDR RAM. It is built for 24x7 operation and has a 1 million hour MTBF rating.
The maker's suggested retail prices are $109 (£90) for the 1TB drive; $139 (£109) for the 2TB one; and $189 (£159) for the 3TB model.
We will probably see a 4TB Red in the coming months.
Colour-led branding
WD is moving away from its Caviar and Scorpio brands, saying the Red, Blue, Green and Black brands will be the primary brands from now on, with potentially both 2.5-inch and 3-5-inch form factor drives included in each brand.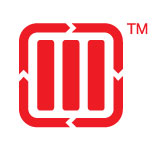 WD NASware logo
The Blue brand is for PC and industrial use, Green drives are for secondary consumer storage, Black drives are for the enthusiast and Red drives are for home and SOHO NAS use.
The AV, RE and Velociraptor brands remain separate from these colour brands. The various Book external drive brands will also continue. Indeed Red drives may be used in Book products.
Ian Keene, WD's UK and Ireland senior sales director, dropped a strong hint that hybrid drives, a combination of disk drive and SSD cache, are coming, with possibly 64GB and 128GB flash caches. The technology might appear in tablet drives – thinner models with a 7mm height and probably a single platter. ®