They look unassuming, but these quiet types murmuring strings of numbers and letters into their transceivers are manning back-up comms for the world, the communication system most likely to survive an apocalyptic event.
These are the people who maintain the kit we fall back on when masts jam, cables break and global comms fail.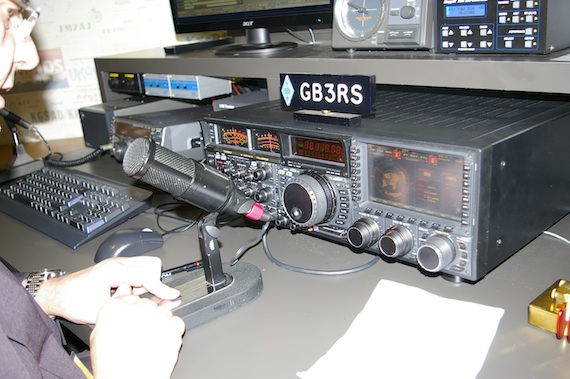 "In disasters, they rely on us" ... Amateur radio requires no infrastructure
"In disasters they rely on us," said Carlos Eavis of the National Radio Society, at the opening of the National Radio centre yesterday. "In 9/11, all the mobile masts were on the Twin Towers, but the radio signals still worked.
"When the tsunami struck we were the first people to be able to report it and to get information in and out. We can provide the back-up and support in an emergency, because amateur radio requires no infrastructure."
Amateur radio fans are also the people NASA turn to when they want to work out how to remotely control a truck on Mars, or need help picking up signals that are outside of NASA's Deep Space Network.
NASA use amateur radio as a one-stop shop for research for questions like how to work out remote control [for] a vehicle on Venus or connect to such-and-such a satellite. Because of the breadth of knowledge and understanding of the spectrum, we can answer questions like that.
Amateur radio types can also chat to the astronauts, as there's a ham radio centre on the International Space Station.
Closer to home, UK emergency services have asked Raynet, which organises and trains radio amateurs, to provide emergency radio connectivity when satellite, mobile and fixed line comms fail.
Amateur Radio: Aerial tweaking, and competitive calling
Though many of the amateur radio types are still communicating in Morse Code, and their conversations seem like a crackly, unreliable audio-only version of Skype – or more accurately Chatroulette – Radio Society members Richard Byford and David Rivers say that radio is both an exciting and culturally relevant hobby. "It's not an antiquated hobby; it's as up-to-date as anything else," says Byford.
There are 65,000 radio amateurs in the the UK and more than 3 million worldwide, says the Radio Society of Great Britain.
As the Radio Society Introduction brochure says: "As a radio amateur, you simply do not know who you might talk to "over the air". Using call signs as identifiers, there is no status on the air, and you talk, equal to equal, to everyone you contact."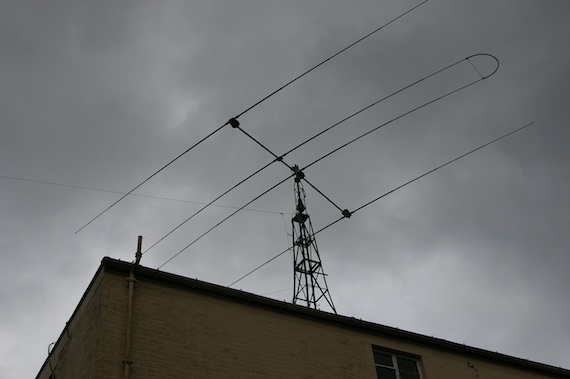 The remote-controlled HF aerial at the National Radio Centre, Bletchley Park. Amateur radio fans say they can spend hours tweaking aerials
We asked Richard Byford what amateur radio fans talk to each other about.
Some have not got a great command of English, otherwise you can have a great conversation with them. Often people talk about technical stuff. A lot of people make their own kit so they talk about that. It's a technical experiment hobby. Some still communicate with Morse code: Morse code is still very popular.
Often, they're just swapping codes: each time an amateur radio centre connects to another one, they swap codes (QSL codes) identifying the centre they are talking to. There are competitions where hams battle it out to log as many codes as possible within a certain time span.
And even when they're not competing, amateur radio enthusiasts like to collect the QSL codes, display them on their walls, and even post cards of the QSL codes of people they talk to through a specially set up amateur radio mail system.
It is a culture on its own, and it does become absorbing for the initiated. Rivers said:
You hone your station to be the best technically, you can spend hours getting your aerial tuned. It's a very absorbing hobby. You get some strange creatures in amateur radio.
The Dark Arts
But even though aerial tweaking may seem old hat these days, the use of the radio region of the electromagnetic spectrum has massive implications for all sorts of technologies.
And there are still some fundamental mysteries – such as propagation – how radio waves travel through the air. Byford says:
Propagation is a black art, I'll get up at 4/5 in the summer sometimes to be awake for sunrise so I can talk to Hawaii where the sun is setting. They call it the grey line. Transmission between two places is best when one is at sunrise and one at sunset.

No one really understands why that is.
®
Similar topics