Christians get God-optimized 'Edifi' Android fondleslab
Holiest tablet since Moses was gifted by a burning bush
---
The tablet market is getting increasingly competitive these days, but an American company believes its offering may have a unique selling point: it's a fondleslab for the faithful.
Dubbed the Edifi, the seven-inch device is billed as the first tablet computer designed specifically for Christians, and comes with streaming access to 27 translations of the Bible, links to religious internet radio stations, and a specially secured browser that should block any temptation to peek at inappropriate content.
The tablet, which runs Android 2.3, comes with 512MB of RAM, 8GB of storage, and includes an HDMI port for showing edifying images and movies, and a removable stand to protect the screen when not in use. Built by a South Korean OEM, the tablet is priced at $149.99 by retailers Family Christian.
"We basically stacked it up to [Amazon's] Kindle Fire," Brian Honorable (yes, that is his name), a technology supervisor at Family Christian, told Fox News. "Only theirs is $199.99. Ours is $149.99. The battery is actually stronger than everybody else out there on the market."
Sadly for the Edifi team, Google has somewhat crippled their marketing plan by announcing the Nexus 7 tablet, which is more highly specced than anything else at the same price point – although some might argue that Google's pricing may be further proof that the company is a tool of Satan, the earlier evidence being that the Chocolate Factory recently come out strongly in favor of gay marriage.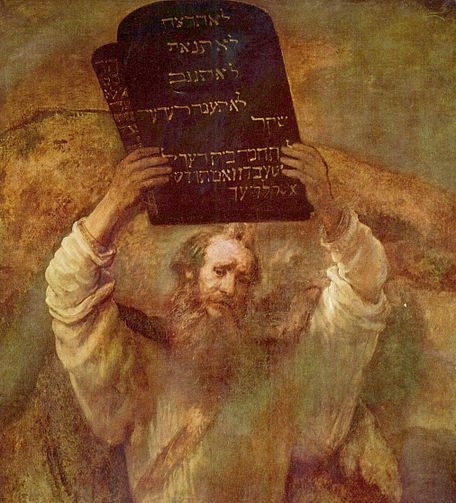 'I'll try turning it off and then on again'
Tablets, of course, are a vital component of Christian iconography, as the Old Testament tells us. On Mount Sinai, God gave Moses two tablets (of the analog kind) upon which the deity had inscribed the rules for his creations, a process which saw Moses on the mountain for 40 days and 40 nights without food or water.
But when Moses came down the mountain and discovered the Israelites cavorting around a golden calf, he smashed the tablets, burnt the idol, ground it up, mixed it with water, made everyone drink it, then ordered the killing of 3,000 of of those Israelites who didn't immediately side with him (Exodus 32:19-28).
Moses was then told to carve a new set of tablets, and upon them God restored the sacred text files from what was presumably a celestial backup, thus retiring history's first recorded tablet tech-support ticket.
We wish the good folks behind the Edifi tablet godspeed in their efforts to provide such divine service. ®